Provence Bicycle Tours
Taste, pedal, relax, and climb your way across the south of France on a Provence Bike Tour.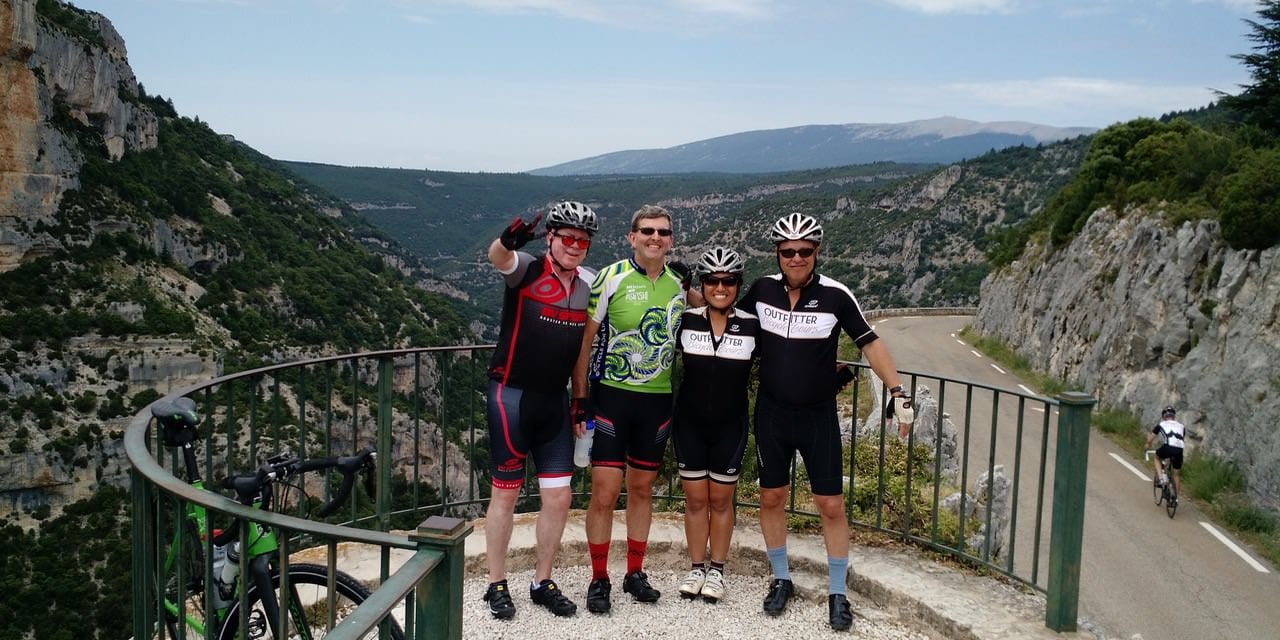 Why take a Provence Bike Tour?
Experience the unparalleled Peace and Beauty of France in Provence!
If you have longed for a visit to Provence, join us for a bike tour that highlights the best of this historic region of southeastern France. Our Provence bike tours are exceptional for groups of riders with different riding abilities. All riders – small groups, large groups, beginners, and advanced – will be satisfied!
Pedal through endless fields of sunflowers and lavender, and journey to some of the most cherished vineyards in all of France. Experience the Luberon of Peter Mayle's "A Year in Provence", the heights and spectacular views of Mt. Ventoux, and the rolling vineyards of the Gigondas and Beaumes-de-Venise.
Make your next vacation a customized bicycle tour through majestic Provence to experience the natural beauty, views and culture of this very special region of France.
Provence Bike Tours on Your Terms!
You name the dates, riding distance, and other details of your tour. This is your self-guided bike trip, so you or your group can do it your way, but rest assured – you'll have worry-free routing by GPS, and a guide/concierge always available to help you when you need it.
Provence Cycling Trip Highlights & Must-Dos
Before you start your Provence bike tour…
Read about some of our own favorite hidden gems in Provence in our blog!
Check out all of our posts about Provence on our blog page here.
Provence Bike Tour Inclusions
Fit Your Needs
We are fully committed to providing low-hassle customizable tours that are created to fit each guest's interests, and needs!
We're on Your Schedule
You name the dates and we curate your private bike tour.
Concierge Level Service
Ride in confidence with the support of a local dedicated concierge/guide.
Inclusions
Included in your tour are all luggage transfers, jerseys, comprehensive routing instructions, and much more. Read more about our bike tour pricing on our Pricing page.
From Soothing Vineyard Roads to High Mountain Ranges
Our custom Provence bike tours begin just outside of Avignon and loop through the Vaucluse Department, and the Luberon. You have options to visit beautiful villages in the Vaucluse, including:
Vaison La Romaine – known for its rich Roman ruins and medieval town & cathedral
Gordes – one of the most famous villages of Provence
Bedoin – is a lovely little agricultural village that is sunny almost every day of the year
Sault – in the heart of the lavender countryside
And many others!
Pedal through famed wine villages such as Gigondas and Beaumes-de-Venise, and taste along the way!
Depending on your Provence bike tour itinerary, you may have a chance to test your legs on Mont Ventoux, the "Giant of Provence," which will call you to conquer it.
If you prefer more relaxed riding, your enjoyment will be no less. Our Provence cycling routes are smooth and separate from busier main roads.
Let us plan your perfectly customized bike tour in Provence
As with all of our private, custom bike tours, we offer something for everyone:
Relaxed options that can be completed on e-bikes or hybrid bikes
Aggressive routes for avid cyclists on road bikes
Our suggested Provence tour itineraries range from 5 to 8 nights, or we can custom design a tour for your pace, needs, and interest.
Let us curate and customize one of our Provence bike tours for you!
1. Explore the tour itinerary options
3. Complete the Registration Form
If this is a "self-guided" tour, why do I have a guide/concierge?
Our local contact is dedicated to ensuring that your holiday goes as smoothly as possible. Think of them as your local friend showing off their home while you're in town for a visit. They are there from greeting you at the beginning to saying goodbye at the end. OBT concierges take care of curating excursions taking care of mechanical issues & roadside assistance, luggage transfers from hotel to hotel, providing assistance with routing, and much more. They are a phone call away, and there for you.
We deliver this level of service because you're exploring an area unknown to you, and having a local contact provides great peace of mind. Let us streamline your holiday so that you can focus on having fun! OBT's level of service is well above the typical self-guided experience.
What is included?
We take care of everything except pedaling the bike….except for eBikes. The eBikes we provide will help you pedal!
All hotel accommodations – mostly 3 and 4 stars but ask for custom accommodation requests.
An OBT cycling jersey!
Comprehensive routing instructions. GPS unit rentals are available.
Luggage transfers from hotel to hotel.
Meals as explained in the tour itinerary pages. Usually, this means all breakfasts, no lunches, and some dinners.
Detailed route notes, maps, and tourist information
Your personal guide/concierge
What is not included?:
Transportation to start location and from finish locations
Bikes, but we have rental bikes available
Travel and Health Insurance
Admission to site-seeing venues, unless explicitly mentioned as included
Why is a Private tour better?
Our tours are centered around accommodating our guests and the experience they are craving. Not the other way around.
Have you ever been stuck with a group of people you don't know and may not particularly like? Or have been required to go along with tour plans or excursions that you were not excited about? Have you ever been in a tour group where you feel like you're being herded along and hurried regardless of what you'd like to do? We've been there and don't like it either. A private tour allows you to travel when you want and with whom you want. Bring your friends, family, partner, or simply yourself. Let us curate an experience for YOU!
We're on your schedule? How?
From when you register for the tour through the duration of your tour, we cater to your timing.
YOU get to name the dates of your tour. You don't have to choose from a calendar of tours that require you to adjust the timing your vacation plans. Want to start on a Wednesday? Sure! Want to be on tour for 5 days rather than the 6 days on our sample itinerary? That is OK with us.
When on your tour you are not being pushed to get on the bike at a certain time with a group. You rise, have breakfast, and roll out when you're ready.
Want to spend more time exploring an area on a daily riding route? Sure! Just make sure you get to the hotel in time for dinner.
Are bike rentals available? If so, what kind?
High-quality rental bikes available – road, hybrid and eBike. We will deliver the bikes to you and fit them to you at the beginning of the tour. Your guide/concierge is always available for help if you have a mechanical issue.
How customizable are your tours?
We are very flexible in the destinations we offer tours. Customization options include the number of days/nights on tour, accommodation level (but we DO NOT go under 3-star), new towns/villages within established destinations, and much more. We are open to trying new things in new destinations! Please ask if you're not seeing what you want!
We have a minimum of 3 or 4 nights on tour, depending on destination.
How are you "a step above the typical self-guided tour"?
The level of service we deliver is beyond the average self-guided tour. You have the freedom of choosing your tour dates and the flexibility to customize your tour itinerary. During your tour, your local guide/concierge is there to help you every step of the way. We require them to have more regular contact with you, our guests, than what you'll experience with other tour operators. In fact, some of our guides have been known to offer to ride with you on certain tour dates, if you wish.
If you're looking to experience a polished professional tour, we are your only choice.
How short can a tour be? Do you provide one-day guiding?
We have a minimum of 3 or 4 nights on tour, depending on destination. We do not provide one-day guiding.
Can I have a guided rather than a self-guided tour?
Yes, for most of our destinations and most of our itineraries we can create a fully guided experience. Note that a guided tour requires extra planning lead-time and additional cost.
Where can I learn more about Outfitter Bike Tours' Self-Guided tours?
What is the pricing of the tour?
Pricing varies on several factors: Number of days on tour, double or single occupancy of rooming, and level of accommodation. To discover more about pricing click on the itineraries above and find the "Pricing" tab halfway down the page. Each itinerary will have its own pricing structure.