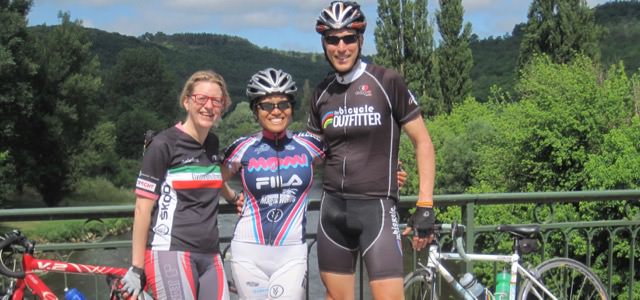 Browse our most popular itineraries, visiting the most desirable sites in the region.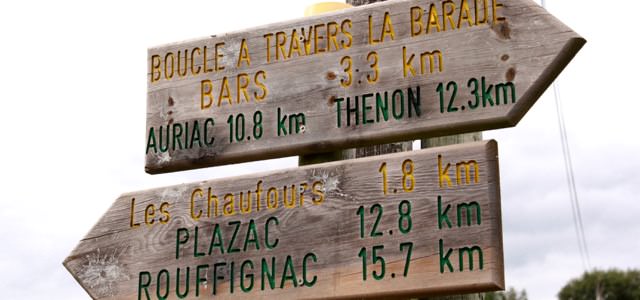 If you prefer to have a special tour a different from our standard itineraries, request a custom tour.
---
Buried in the heart of southwest France, the Dordogne region is a hidden gem in an area of magnificent beauty. It is a place where crowds are few, towns are tranquil, and landscapes are stunningly scenic. In addition to magnificent chateaux, the area is also home to well-known prehistoric sites. If you are looking to get away from it all with a peaceful cycling vacation, consider one of our Dordogne bike tours.
Directly east of its neighbor, Bordeaux, the Dordogne is defined by the Dronne, Vezere, and Dordogne river valleys. Rolling countryside peppered with innumerable chateaux, castles, churches and villages that conceal more obscure prehistoric sites, a Magdalenian period cliff and cave dwellings. Days spent taking in the paysage and seeing the sites are punctuated by exquisite meals of such quality that you would hope for and expect.
All of our Dordogne bike tours are private custom self-guided tours, where you can name the dates, riding distance, and other details of your tour. You have our years-proven worry-free routing, and a guide/concierge always available to help you when you need it.
You begin in Les Eyzies and pedal through well-known areas and towns within the region: Sarlat, La Roque Gageac, and Montignac. Longer tours include rides and stays in Mayronne, Rocamadour, and Sint-Cirq LaPopie.
As with all of our self-guided bike tours, we offer something for everyone—from relaxed options that can be completed on e-bikes or hybrid bikes, to aggressive routes for avid cyclists on road bikes. Our suggested itineraries range from 6 to 10 nights, or we can custom design a tour for you.
For general information on how our Self-Guided Tours work, please click HERE. Also, discover more about how we create our self-guided bike tours so that they are the best available by reading this blog post.
Join us on one of our Dordogne Bike Tours!
"We thoroughly enjoyed every aspect of this tour – well thought out bike routes, very good hotel accommodations (nice, clean rooms and substantial breakfasts), and excellent choice of breweries and brewery restaurants (including brewery tours when available). It was obvious that a great deal of attention to detail had been given to this tour and customer service and client satisfaction was of ut… Read more
Les Eyzies
Montignac
Sarlat
La Roque Gageac
Meyronne
Domme
Saint-Cirq LaPopie
Rocamadour
Le Bugue
Lascaux Caves