FROM THE BLOG
Let us Start Curating Your Cycling Vacation! NameEmailMessage Contact Us USA & Canada: +1-877-275-9241 International: +1-415-322-0421 Email: info@outfittertours.com

Our best bike tours for seniors (a.k.a. the young at heart)! While our riders are all ages, it's no doubt that we hold a special place in our heart for our senior riders. Those who are living their life to the fullest and enjoying every second always seem to inspire us to do the same. We hope no one ever thinks they're too old for a bike tour. If you want to ride your bike through France, Italy, Western North Carolina, talk to us! We've put together a list of our best bike tours for seniors so check it out and let us know what you think!

It's no secret that Asheville is a top travel destination for 2018. At least, Fobes, TravelZoo, and Travel+Leisure certainly think so. It is a regular on "must-visit" lists around the world. Our fearless leaders, Jamie and Joy even relocated here with their family. If that alone doesn't tempt you to plan a trip to Asheville, then maybe the fact that Asheville was named a "Top Cycling Destination" by roadbikereview.com will put you over the edge. So naturally, the next question is when are the best times to visit Asheville?
"We thoroughly enjoyed every aspect of this tour – well thought out bike routes, very good hotel accommodations (nice, clean rooms and substantial breakfasts), and excellent choice of breweries and brewery restaurants (including brewery tours when available). It was obvious that a great deal of attention to detail had been given to this tour and customer service and client satisfaction was of ut… Read more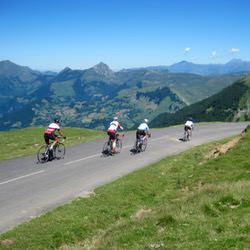 Outfitter Bicycle Tours
,
Asheville
,
North Carolina
-
28804
,
Telephone No.1.877.275.9241
Self-Guided Bike Tours & Guided Bike Tours in France, Italy & the USA. Destinations include Provence, Tuscany, Burgundy, Provence, the Alps & Asheville.