If you have dreamt of spending a week in Provence, this tour is for you. Our 7-night Relaxed tour is designed for riders who want to explore at their leisure without having to attempting the 1,912 meter "Giant of Provence", Mont Ventoux. This tour builds in entire days of rest and relaxation, creating ample space to sightsee and enjoy. Gordes, Vaison La Romaine, the Luberon, weekly village markets, and much more are on the itinerary. We can help you schedule your tour so that you make the most of local village weekly markets. They are a treat you can't miss! There is no more romantic a place in France than Provence. Oceans of sunflowers and acres of lavender alone make it unforgettable. The food is world renowned, as is the wine. See full itinerary below. To learn more about our Provence bike tours please CLICK HERE.
Dates: Your pick! We offer tours in Provence as early as March and as late as October and into November.
Length: 8 days, 7 nights
Service: Supported, Private, "Self Guided" tour. GPS Guidance! For more about how our Self Guided tours work CLICK HERE.
Type of riding: Rolling to flat terrain with some climbs.
Bikes suggested: Road bikes, e-bikes, or hybrids
Average daily riding: 45km
Start city: Avignon
Finish city: Avignon
Suggested transport: Train/TGV from anywhere.
We work with only local guides, cooperating with those that have a love for cycling, and a desire to show guests the beauty of the land they call home. On our self guided tours we do not bring in guides from other destination to work with you. Having the local perspective only enhances your experience, providing insider knowledge and opportunities that only a local resident can offer.
From greeting guests when they arrive, to personally handling luggage transfers, to curating excursions, to problem-solving (e.g., flat tires and other unforeseen issues) our concierges assist guests daily. They also set you up on your rental bikes, and can help with routing and simple questions. Need help finding a good lunch spot? Is it raining too hard or you're too tired to continue? The concierge is a phone call away and are there to help you! Each tour group works with a single, dedicated concierge who can be called upon for in-person assistance at any time.
We generally target 3 and 4-star hotels, which we hand select to maximize comfort while minimizing cost. The star rating is using a French rating system, which has proven to be the standard around the world. Therefore we use the same standards in France and beyond.
Over the years we have developed relationships with many amazing 3 and 4-star properties that distinguish themselves as providing much more than their rating suggests. We have loved getting to know these hotels and sharing them with our guests. For tour groups wishing to upgrade their accommodations, we can provide custom pricing for four and five-star hotels, pending availability. Below are an example of some of our favorite hotels in the region that we target using on our tours, pending availability.
| | | |
| --- | --- | --- |
| Location | Hotel | Photo |
| Le Thor | Bastide Rose | |
| Gordes | La Ferme de la Huppe | |
| Crillon Le Brave | Crillon Le Brave | |
| Bedoin | Hotel Des Pins | |
All bikes come with helmet, repair kit, pump (or CO2 cartridges), lock, and water bottles. During the registration process, you will be asked for sizing specifics to ensure we have the correct sized bike waiting for you. We can supply a number of styles of pedals – please ask if you don't see the pedal type you're looking for on the registration form.
Road Bikes: Our rental road bikes are a racing style with drop handlebars.
Type – Giant Defy Composite
Sizes – XS, S, M, ML, L,and XL
Components – Mixture of Shimano 105 and Ultegra with either triple or compact double cranksets. Many have road-disc brakes.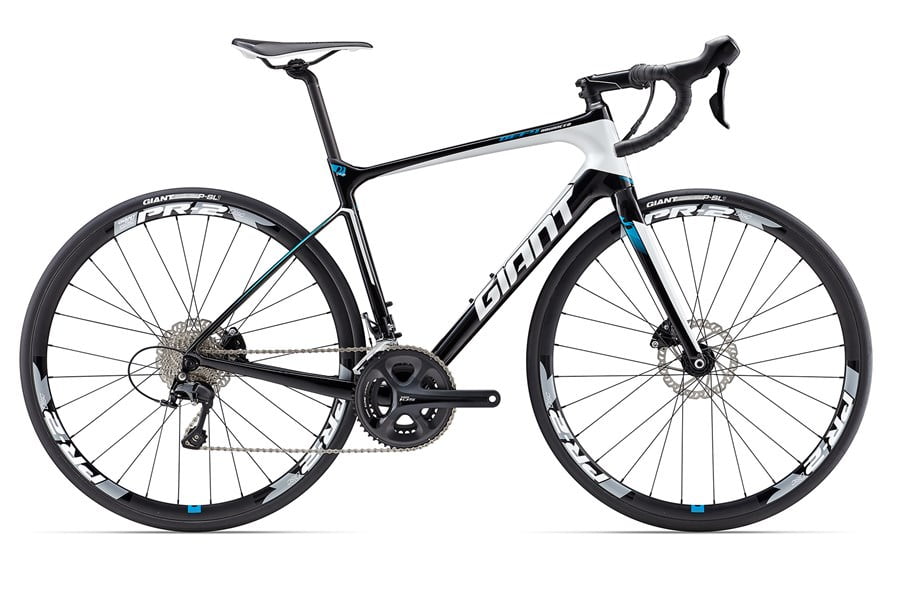 Hybrid Bikes: Our rental hybrid bikes are a relaxed style with flat handlebars.
Type – Giant Escape
Sizes – XS, S, M, L, and XL
Components – Mixture of Shimano road and mountain components with either triple cranksets.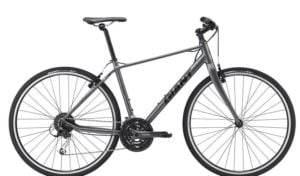 eBikes: These semi-powered bikes allow for non riders to share the experience with their friends and family who are stronger cyclists.
Type – Giant Explore
Sizes – S, M, L
Components – Mixture of Shimano Acera and Deore.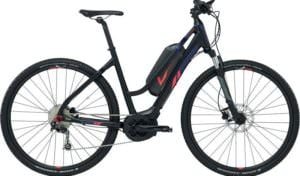 WHAT IS INCLUDED:
All hotel accommodations – mostly 3 and 4 star but ask for custom accommodation requests.
An OBT cycling jersey!
The use of a Garmin Touring GPS during the tour for worry-free routing.
Detailed route notes, maps, and tourist information. This includes standard cue sheet, and GPS courses to upload to your own GPS device.
Luggage transfers from hotel to hotel.
Meals as explained in the tour itinerary pages. Usually this means all breakfasts, no lunches, and some dinners.
Access to your personal guide/concierge (See Guides/Concierge tab).
WHAT IS NOT INCLUDED:
Transportation to start location and from finish location.
Bikes, but we have rental bikes available.
Travel and Health Insurance.
Admission to sightseeing venues, unless explicitly mentioned as included.
Included in your tour fee is the use of one of our Garmin Edge Touring GPS units for the duration of your tour. These easy to use GPS units provide an excellent worry-free routing method that you can depend on throughout your tour. When you arrive the daily routes will be pre-loaded, and ready for you to use each day of your tour. All you have to do is start the daily route at the beginning of your riding day, and follow the highlighted line!
At the beginning of your tour your local guide will show you how to use the unit. We will also provide instructions that you can reference when needed. As a backup and supplement to the GPS, we will also provide a local map as well as routing instructions.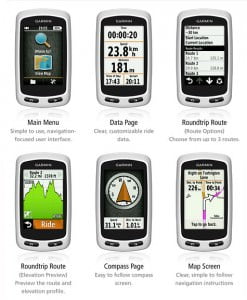 One unit will be provided to each four guests. If you need additional units they will cost $125 per unit per tour for rental.
Tour Cost Per Person:
Double Occupancy: US$2,945
Single Occupancy: US$3,455 (for single room occupancy on multiple person tours)
Solo Tour: Please contact us
Bike Rental Per Person:
Road Bike: US$450
eBike: US$450
Hybrid: US$280
What's Next? Registering for your tour!
Questions: First, please feel free to ask us any questions about the tour. We are happy to help clarify any details.
Registration: Once you are ready to register please go to https://outfittertours.com/registration/ and complete the registration form. EACH tour participant will need to complete the form. At the end of the registration for you will be asked for a US$800 deposit. You can pay the deposit by bank check, wire, or credit card. Once we have all registrations we will secure all of the details of your tour – hotels, bikes, etc.
Final Payment: 60 days prior to your tour we will invoice you for the balance of the tour.
Tour Packet Delivery: Once the balance is paid and approximately 30 days before your tour we will send you a complete tour packet containing all details of your tour – accommodation information, detailed routing, a suggested packing list, maps, tourist guide, and much much more!
For more information on our Terms & Conditions please CLICK HERE.
Daily Itinerary:
Day 1: Arrive Avignon by Train, stay Le Thor
Welcome to Avignon! We will pick you up from the train station or airport and take you to your first hotel outside the village of Le Thor. Once you arrive at the hotel, relax and enjoy the afternoon. Dinner is at the Inn—a special welcome feast prepared by one of our favorite chefs, Emmanuel, the son of the proprietor and also a professional clown.
Day 2: Le Thor to Gordes – 45km
After breakfast, your local guide/concierge will meet you and give you an orientation to your tour. They will set you up on your rental bikes or help you set up the bike you brought with you. Then you're off to start your cycling vacation! It is a comfortably rolling ride to Gordes via Fontaine-de-Vaucluse. There is also a flatter option that bypasses the Fontaine. Today you visit Gordes and at the end of your ride before coasting to your Inn. Dinner is included.
Day 3: Luberon Loop Ride – 45km
Today's ride is a classic. You are in the heart of the Luberon, made famous by Peter Mayle in his book "A Year in Provence". Ride 45 hilly kilometers through one beautiful village after another: Roussillon, Bonnieux, Lacoste and Menerbes, to name a few. For those craving less rigor and more relaxation, daily mileage can be shortened as desired. Dinner is again at the hotel.
Day 4: Gordes to Crillon Le Brave or Bedoin – 37km
This is a beautiful ride with almost all the hilly terrain tackled in the morning. On the way you can visit Abbaye de Senanque and Venasque. You have a choice of hotels tonight: Hostellerie Crillon le Brave is in the Relaix et Chateau network—a beautiful and luxurious property that can be reserved for an additional $150. The Bedoin hotel is one of our favorite hotels in Provence, and is included in the standard package price—it is very nice and in a lovely wooded setting. Dinner is on your own at Crillon le Brave and included in Bedoin.
Day 5: To Vaison la Romaine – 36km
Today is a wine tasting day in one of the most formidable regions in France—the Rhone! Ride through Suzette and Beaumes-de-Venise on your way to the lovely old Roman town of Vaison la Romaine. Tonight will be your first of two in a magnificent B&B in the Old Town overlooking the main town. Dinner is on your own and finding the perfect places is easy.
Day 6: Vaison la Romaine Exploration
You can walk the entire town or use your bikes and to extend your exploration of the area. We suggest enjoying the Roman sites, and strolling through the shops and cafes. This is an exciting town with a great variety of shopping opportunities and architectural sites dating back to Roman times. IF you're in town on Tuesday, enjoy the morning market. The small bridge dates back many centuries and takes you over the small river that the town grew from. If you wish to ride, we will have a riding option for you. Dinner is again on your own. Tomorrow you ride!
Day 7: Vaison la Romaine to Le Thor – 52km
Head back to Le Thor and hit several new wine towns along the way, including Seguret, Gigondas, and Vacqueyras. You can take in the beautiful views of the Dentilles riding in this direction. Your farewell dinner is included tonight at Bastide Rose.
Day 8: Departure.
Sleep late, have a leisurely breakfast, and enjoy your final morning in Le Thor. We will collect your bike if you rented one, and help transfer your luggage to the train station, before bidding you farewell!