Looking to join the excitement in France this coming July?! You've found the right place. Join us on our Tour de France Tours.
ONLY 1 ROOM REMAINS AVAILABLE ON THIS TOUR!
2017 will be OBT's 17th year of offering Tour de France vacations. Come join us for another year of amazing riding and racing! We welcome riders of all levels and even non-riders on our holidays. Past guests include TdF fans from Australia, Canada, Mexico, United States, and other countries.
Our 2017 TdF Tour will be very special, with 5 stage viewings, riding in the high Alps, a visit to the Mediterranean, and a TGV to Paris to see the last stage. You'll be able to conquer legends like Alpe d'Huez, the Galibier, Izoard, and Madeliene. See the full itinerary below.
What is included on this fully supported tour? Hotel accommodations located in prime locations for race viewing, all breakfasts, most dinners, all luggage transfers, road support, and detailed route notes, maps and GPS courses, an OBT cycling jersey, plus much more!
All of our favorite hotels are 3 star or better and are located in prime locations for race viewing. The food is delicious and the views stunning.
With your registration, you receive an OBT jersey plus you will receive a Photo Tour Book after the tour using your shared pictures.
If you'd like to read more about our TdF tour experiences read HERE and HERE.
Join us on our Tour de France Tours!
See full itinerary below.
Dates: July 15 to 24, 2017.
Length: 10 days, 9 nights
Service: Fully supported guided tour.
Type of riding: Varied – High mountains to rolling terrain.
Bikes suggested: Road bikes, e-bikes, or hybrids available
Average daily riding: From 20 miles to 60 miles with an average of 40. We always have extensions for those wanting more challenging riding!
Start city: Albertville
Finish city: Paris
Suggested transport: Train to Albertville from Paris or Geneva. Fly from Paris.
Road Bikes: Our rental road bikes are a racing style with drop handlebars.
Type – Carbon Road
Sizes – 50 to 62 cm
Components – Mixture of Shimano 105 and Ultegra with either triple or compact double cranksets. Many have road-disc brakes.
Hybrid Bikes: Our rental hybrid bikes are a relaxed style with flat handlebars.
Type – Hybid (Aluminum)
Sizes – XS, S, M, L, and XL
Components – Mixture of Shimano road and mountain components with either triple cranksets.
eBikes: These semi-powered bikes allow for non riders to share the experience with their friends and family who are stronger cyclists.
During the registration process you will be asked for specifics to have the correct sized bike waiting for you. We can supply any number styles of pedals – SPD, SPD-r, flat, Speedplay, Look, etc.
WHAT IS INCLUDED:
OBT cycling jersey
ClifBar Products (complementary) for personal fueling and hydration
All hotel accommodations
Luggage transfers from hotel to hotel
Meals as explained in the tour itinerary pages.
Detailed route notes, maps, and tourist information
Outstanding routing instructions for all rides! This includes GPS course downloads for your GPS unit, traditional cue sheet, and written prose describing each turn and the surrounding area. These methods are then supported by a road map.
Your personal guides, helping you with support vehicles. On-road support will always be near. From greeting guests when they arrive, to handling luggage transfers, mechanical issues, etc – our guides assist guests in every way. They also set you up on your rental bikes, and can help with routing, and any other questions.
WHAT IS NOT INCLUDED:
Transportation to the start location and from and Paris
Bikes, but we have rental bikes available
Travel and Health Insurance
Admission to sightseeing venues, unless explicitly mentioned as included
Tour Cost Per Person:
Double Occupancy: US$3,895
Single Occupancy: US$4,795
Bike Rental Per Person:
Road Bike: US$375
eBike: US$375
Hybrid: US$295
What's Next? Registering for your tour!
Questions: First, please feel free to ask us any questions about the tour. We are happy to help clarify any details.
Registration: Once you are ready to register please go to https://outfittertours.com/registration/ and complete the registration form. EACH tour participant will need to complete the form. At the end of the registration for you will be asked for a US$800 deposit. You can pay the deposit by bank check, wire, or credit card. Once we have all registrations we will secure all of the details of your tour – hotels, bikes, etc.
Final Payment: 60 days prior to your tour we will invoice you for the balance of the tour.
Tour Packet Delivery: Once the balance is paid and approximately 30 days before your tour we will send you a complete tour packet containing all details of your tour – accommodation information, detailed routing, a suggested packing list, maps, tourist guide, and much much more!
For more information on our Terms & Conditions please CLICK HERE.
Daily Itinerary:
Day 1: July 15th – Saturday – Arrive in Albertville
Our tour begins at the site of the 1992 Winter Olympics – Albertville. After picking you up from the train station we will have a short transfer to the hotel. We will be staying a lovely hotel with a pool and views of the mountains. We will help you set up your bike or set you up on a rental bike. If you have time we will have a riding route for you – the Col du Tamie is nearby! Our welcome dinner is this evening after a meet-and-greet reception.
Day 2: July 16th – Sunday – Ride to St. Jean de Maurienne
We will ride over the Col de Madeleine to St. Jean. Along the way, you will have additional options to ride the Col du Glandon, Croix De Fer and the Laclets de Montvernier. Dinner is on your own in St. Jean tonight, with many options to explore.
Day 3: July 17th – Monday – Ride to La Grave via the Telegraphe and Galibier
Today we will trace some of the route the TdF will race during Stage 17. The Telegraphe and Galibier are no strangers to the TdF, and you'll enjoy the highest elevation of this years TdF on the Galibier! Our hotel is known to cater to cyclists and athletes, and has the menu to properly fuel our cycling! Dinner is included at the hotel in La Grave. Enjoy the view of La Meije glacier.
Day 4: July 18th – Tuesday – Alpe d'Huez Day!
The TdF is getting closer, but we'll spend our conquering the mighty Alpe D'Huez! We will also have options to extend the day in the saddle – we can ride the Sarenne as well as Les Deux Alpes. Dinner is again included at the hotel in La Grave.
Day 5: July 19th – Wednesday – Stage 17 Viewing On Or Near The Galibier
There are many riding options today, but they will culminate with viewing Stage 17, with the stage finish down the road in Serre-Chevalier. Head to the finish line or climb the Galibier to watch them crest the summit. Dinner is again at the hotel.
Day 6: July 20th – Thursday – Stage 18 Viewing and the Col d'Izoard
The stage starts in Briancon, a 40km ride from the hotel. We'll be able to watch the start, climb the Izoard from the north side, then watch them finish at the summit as they ascend from the south side. It will be a very action packed day! Dinner is again at the hotel.

Day 7: July 21st – Friday – Transfer to Marseilles/Aix-en-Provence & Stage 19 Viewing
You will have an option for a short bike ride in the morning before we jump in the vans and head towards the Mediterranean. The stage will begin and end near our route south, so we'll have plenty of opportunities to see today's stage. Dinner is included at the hotel tonight.
Day 8: July 22nd – Saturday – Stage 20 Time Trial Viewing & Area Riding
We will enjoy a short morning ride in the area driving into Marseilles to view the Time Trial. Because of the density of people and buildings, we'll be leaving our bikes at the hotel and enjoy the area on foot or city rental bikes. It will be a perfect day to walk around, get close to the riders, and watch the GC contenders give it their all for the final time. Our farewell dinner is at the hotel.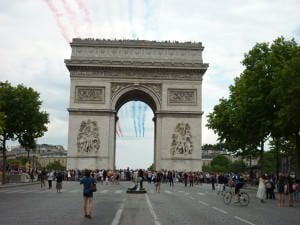 Day 9: July 23rd – Sunday – Transfer to Paris & Final Stage Viewing
Today we speed to Paris via a TGV to watch the final stage. The transfer is dramatic – the transition from the relaxing Provencial countryside to the bustling "City of Love" will be noticeable. A morning departure from the Aix-En-Provence TGV station will put you in the middle of the TdF party on the Champs Elysees in time for the finish. Train tickets are included in your tour fee. After the stage, walk the very short distance from the Champs Elysees to our hotel, which is on the race route! Our hotel is very central to all the sites in Paris – after the celebrations take an evening stroll along the Seine to the Eiffel Tower. Dinner is on your own in Paris.
Day 10: July 24th – Au Revoir!
Departure day! Transportation to the airport is easy from our hotel – the Air France shuttle and Metro stops are nearby. Or stay in Paris for a few days. Bon voyage! We hope you enjoyed your tour with Outfitter Bicycle Tours!
Summary
Event
Location
​
Outfitter Bicycle Tours

,

France
Starting on
Ending on