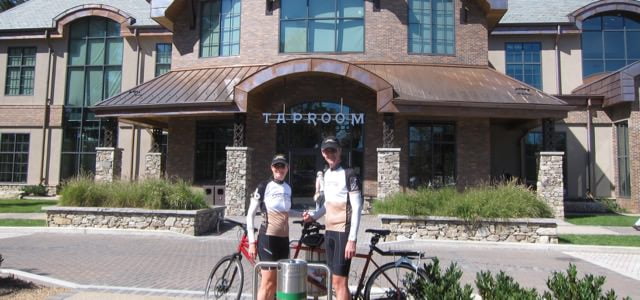 Browse our most popular itineraries, visiting the most desirable sites in the region.
If you prefer to have a special tour a different from our standard itineraries, request a custom tour.
---
Surrounded by lush National Forests and filled with both classical and modern arts, Asheville and the local region has become the epicenter of culture and natural exploration in the Southern United States. Our Asheville bike tours give you the chance to experience all that Western North Carolina has to offer.
Your tour will start in Asheville, the heart of Western North Carolina. It is home to progressive culture, Thomas Wolfe, and the Biltmore Estate. Named in an innumerable "top" lists, Asheville is the cultural mecca of the south.  Known for its craft beer, art districts, and music scene, Asheville has become a world-renowned holiday destination.
The trek you will take you through historic Asheville, around the Biltmore Estate, and out into the countryside.  Along the way, you will visit Brevard, the gateway into Pisgah National Forest and the "Land of Waterfalls". Take this chance to take an optional day to mountain bike in either Pisgah National Forest or Dupont National Forest. You'll recognize Dupont as the filming site of the "Last of the Mohicans" and the first "Hunger Games" movie. Also, if you wish to ride the big mountains, you can venture north up the Blue Ridge Parkway to Burnsville and Mt. Mitchell.
Towards the end of your tour, you can visit Hendersonville and Lake Lure.  Hendersonville is lovely, quiet town known for its apple orchards.  You will recognize Lake Lure as the filming location of "Dirty Dancing".
Extra excursions & options include a tour of the Biltmore House, mountain biking, canyoneering, hiking, climbing,  rafting/paddling, and Stand-Up Paddle lessons & tours.
We at Outfitter Bicycle Tours call Western North Carolina home (we are based just outside Asheville), and are proud to show off what we consider to be some of the best riding roads in the world.  Come join us for one of our Asheville bike tours!
"We thoroughly enjoyed every aspect of this tour – well thought out bike routes, very good hotel accommodations (nice, clean rooms and substantial breakfasts), and excellent choice of breweries and brewery restaurants (including brewery tours when available). It was obvious that a great deal of attention to detail had been given to this tour and customer service and client satisfaction was of ut… Read more
Biltmore Estate
Biltmore Estate
Pisgah National Forest
Pisgah National Forest
Hendersonville
Hendersonville
Dupont State Forest
Dupont State Forest
Mt. Mitchell
Mt. Mitchell
Chimney Rock
Chimney Rock