Provence, located in southeast France, offers a unique experience for travelers. With ideal terrain for both relaxed and aggressive cycling tours, as well as amazing food, culture, and nature, it satisfies the wanderlust of any traveler! Our experienced Provence bike tour guides share some of our favorite reasons to tour Provence on two wheels.
Provence landscapes
Picture this: you are bicycling along a quiet road in the French countryside, passing thriving vineyards, groves of olive trees, cherry orchards, fields of lavender and sunflowers, and quaint villages that host bustling weekly markets. The provençal landscapes provide the perfect backdrop for a cycling tour of a lifetime, and the climate is ideal from Spring to Fall for you to experience them on a bike.
Lavender season
The fields of lavender, with its calming aroma and vibrant purple color, is one of the most picturesque aspects of biking Provence in mid-summer (approximately late June to early July). We love to bring our Outfitter Tours clients to the picture-perfect Abbaye Notre-Dame de Sénanque (Senanque Abbey), an operational abbey near Gordes that is supported by the sale of lavender grown by the monks themselves. Enthusiasts of the plant also won't want to miss the Lavender Museum—also near Gordes—which offers unique lavender-scented watercolor workshops.
Bike-friendly routes
The well-marked routes and quiet roads throughout the French countryside provide peace of mind for bike travelers; while there may be occasional city streets to cross, most of our tours use side roads, away from traffic. Taking your bicycle holiday in Provence allows you to take in the sunny backroads and hilly countryside without the hassle of busy streets. Plus, the Outfitter Tours team is committed to taking clients on the safest routes available.
Mont Ventoux
As the "Giant of Provence," Mont Ventoux's ascent is legendary. While it was made famous by the Tour de France, it is a highly popular attraction for cycling enthusiasts of all levels. Mont Ventoux appears to be snow-capped year-round, but the summit is actually bare limestone-covered, contributing to this illusion. Cyclists may approach Ventoux from various directions to enjoy easier or more strenuous climbs, based on your preference. Fun fact: Mont Ventoux was named for the windy conditions at its summit.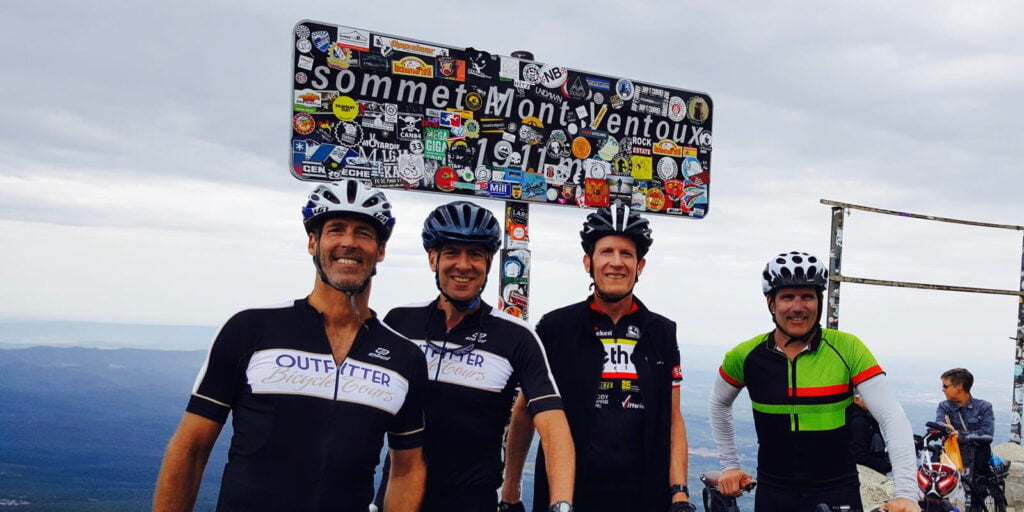 Charming villages and local weekly markets
Our Provence bike tours begin just outside of Avignon, looping through the Vaucluse and the Luberon with options to stop and visit the charming villages dotting the region's hills and valleys—like Gordes, Bedouin, Sault, Gigondas, and Beaumes-de-Venise.
We have found that spending time at a village's local market is one of the best ways to immerse yourself in the provençal lifestyle and culture, so we always reserve time for market days like the Wednesday morning weekly market in Sault. Shopping is a truly special experience here, where stalls are filled with locally-grown food, fresh baked bread and pastries, and unique textiles and handmade wares.
Local cuisine & wine from Provence vineyards
On your bike tour through Provence, you can expect to refuel with incredible local cuisine, from traditional savory dishes like ratatouille, bouillabaisse, and tapenade to artisanal cheeses and fresh produce.
Pair your meal with a glass of wine from a nearby winery for a next-level Provence dining experience. The region is home to over 400 vineyards and wine cellars, and is known for its world-famous rosés—but you will also find other red and white wine grape varieties like Mourvèdre, Syrah, and Semillon.
---
Tour Provence on bike with concierge service
The Outfitters Tours team is here to help you plan your dream biking tour & vacation in Provence—or one of our other beautiful destinations!—allowing you to see the varied sights on two wheels, safely and comfortably. Our local concierges provide all of your essentials (including road, hybrid, or e-bike rental) and are here to support you should you need any assistance or a new bike tire along the way.
In addition to providing a range of itinerary options for seeing Provence on bike, we are also happy to provide fully personalized itineraries based on your interests. No matter what, we always include plenty of room and guidance for sightseeing, markets, restaurants, and all the unique treasures that Provence has to offer! Click the links below to browse some of our itineraries, which range in intensity level for cyclists of all stripes:
Ready to see Provence by bike? We're here to tend to every detail to ensure you have a magical experience! Fill out an interest form to hear back from our knowledgeable guides, and begin planning your dream cycling trip to Provence today!