You're booked and thrilled for a new adventure!
We're so excited for you! Bike tours will introduce you to new landscapes in a different way than a rental car ever could. You'll have time to take in all the smells of the Provencal countryside, you'll be able to see the leaves blowing in the wind under the Tuscan sun and you'll be able to really take in the climb to the mountain summits in Western North Carolina. So….
Now you just have to wait for your flight.
And make sure you're ready. 
Physically and mentally. 
We have many guests who are avid bikers and their tour is a way to break the monotony of training at home. We also have guests who are comfortable on bikes and are planning their trip to keep it easy and comfortable. It's also not uncommon to get guests who rarely ride and are looking to immerse themselves in a totally new way to travel and see the world. We love you all!

Certainly there may be a little more physical preparation for the last group mentioned but everyone can benefit from a thorough evaluation of where your fitness is before boarding your plane. Keep in mind that not every tour rider is out to conquer Ventoux or any of the famous cols but even if you plan a leisurely tour of the villages in Southern France, you should still check in with your fitness level. 
You may find you've got all you need and you feel confident. But what if you don't feel ready? What then? 
Talk to us about getting in shape for your bike tour.
Our team is always ready to chat with you if you feel concerns about your tour and your physical ability to complete your selected tour without too much trouble. Most of the time, certain changes can be made to cut out big climbs and shorten the length of the days. Much of the time, our guests try to get ready for their tours by training a few months before the trip. 
Think about what will be expected of you on your tour.
If you're concerned, we suggest gauging how long your days on the bike will be. We can help you with that, too. Once you know how long your days will be, you can think about aiming for those mileage numbers over time. Start off slow – you don't want to get injured before you go. Let's say your days will average about 20 miles. You can start off with 6-10 mile rides at an easy pace. This is not a race – you do not need to train to go fast. You just want to feel confident and have fun! Unless of course you're out to break records in the Alps. 
Even those riders are all about the fun. It's just more of a Type 2 kind of fun…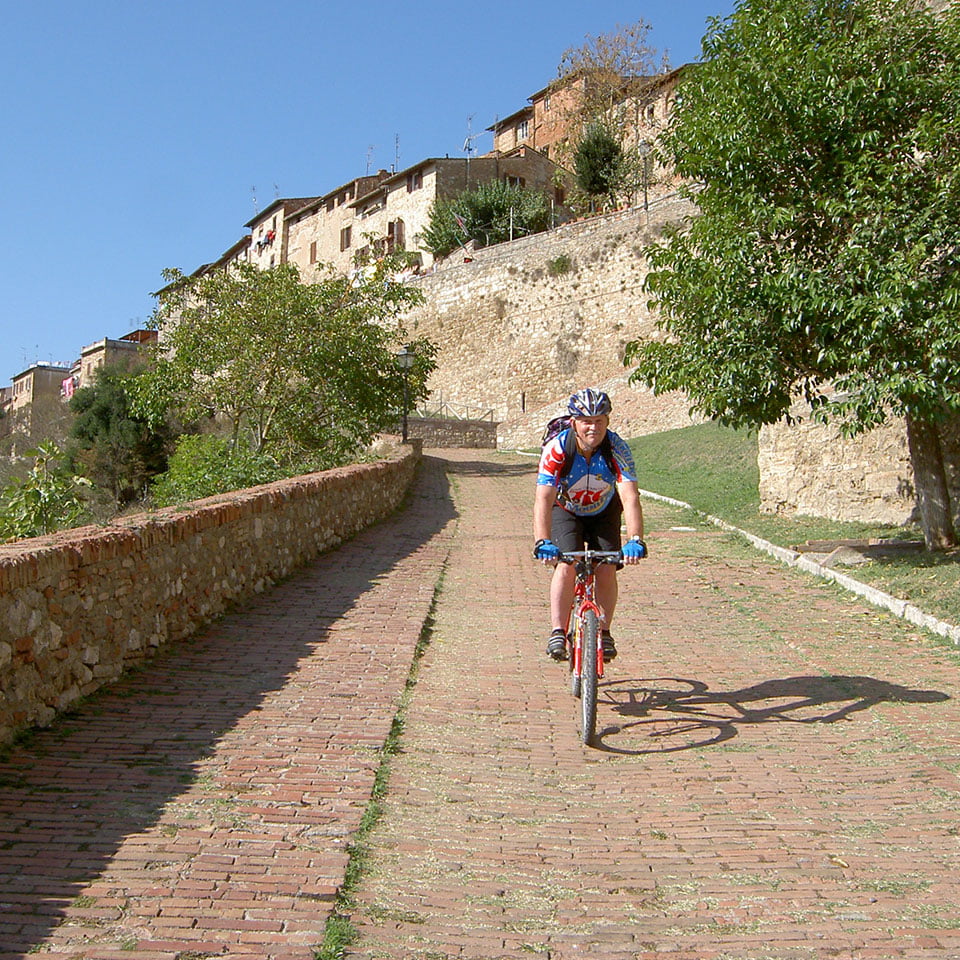 Start slowly.
Slowly build up your mileage over a few months. Think about maybe going back to back on long days. Do two days in a row of 15 miles. It's important to think about climbs as well. Guests who come from Florida or other flat lands are not always ready for what gaining 2,000 ft. of elevation means for your legs. On the other hand, we've seen riders from the prairies of the U.S. whip around us on climbs up Mt. Mitchell. We definitely don't want to box anyone into a stereotype. Nevertheless, it is a consideration that should be taken seriously.
Some climbs you can take slowly and just keep on pedaling but some may be all the more enjoyable if you can look around and enjoy the views. It's certainly more fun thank looking down and cursing your past self for booking the trip. Of course no matter what happens on the climb up, all is forgotten and forgiven at the top.
At the end of the day, it's all about having fun.
The best way to have fun is to be prepared, making you confident and ready to take on your tour – wherever it may be!
We should mentioned that we are not coaches. We are not doctors. This is general guidance that could be a good start for getting in shape for your bike tour. There are lots of free resources available online (like this one). You could also consider working with a coach. If you have any concerns at all, please check in with your doctor.