Things are looking up!
Vaccine distribution and administration numbers are climbing, the holidays are over and warmer weather (allowing for more comfortable outdoor gatherings) is around the corner. We're getting there people! While we patiently wait for some level of herd immunity that will allow for safer European travel, Asheville boasts the perfect setting for your next adventure! Follow along to learn why Asheville bike tours might be the best vacation option.
What Asheville is Doing
Asheville has incredible riding, luxurious accommodations and a very responsible approach to the pandemic. Our city and regional leaders have worked tirelessly and made many tough choices to keep the pandemic at bay as much as possible. From small retailers in downtown Asheville to luxurious B&Bs tucked into the mountains surrounding the city, you'll see COVID precautions in place everywhere you look. You might see countless hand sanitizing stations, informational flyers posted on windows, masks, temperature checks, and reduced capacities to keep the amount of people gathering to a minimum. The city took it one step further with the creation of the Asheville Cares Stay Safe Pledge. Take a look and learn about what different industries (including accommodations) are specifically doing to encourage health and safety in Asheville.
All of the things you may like to do on a vacation are still possible in Asheville, even if they look a little different. Many of our favorite breweries and restaurants are still operating but with safer and more creative procedures. For example, Burial Beer Co. has completely revamped their operations. They've made it possible to safely grab a 6pack to-go by having a table set up outside to serve you. They've also stopped flights, tasters, tabs, accepting cash, and there is enforced social distancing while waiting in line for your brew outside. It's a system that allows you to enjoy the unique Asheville culture without the fear we all feel on some level because of the pandemic. Burial is just one example of the businesses who are going above and beyond to keep you safe.
What WNC is doing
Our Asheville tours venture far beyond city limits. You can explore to the peak of Mt. Mitchell and down into the valleys tucked between WNC mountains. Most of our areas have taken initiatives far above and beyond the standard. Brevard in Transylvania County has implemented a sizeable information campaign with updated graphics to encourage social distancing, handwashing and mask use. Oskar Blues is one of our favorite breweries in the wider WNC area and they've shifted their operations to table service and limited capacity. This is a perfect stop as it's all open air (they've closed the upstairs taproom). It's also conveniently located to gorgeous rolling hills and farm-lined valley roads. 
What OBT is doing
We're working diligently to make sure that every partner we work with is also keeping your safety in the highest regard. Our team only works with the most dedicated partners at the best of times but we've made sure that in these unprecedented times, our partners are taking the pandemic seriously and taking the right steps to ensure your safety. This includes rental providers, hoteliers and guides.
What you can do
Ask us questions! We'd love to chat with you and make sure you feel comfortable with your choices. We'll work our tails off to make sure we make safe recommendations and offer safe options but this is your vacation! Please let us know what you're interested in, what ideas you have for your bike tour and what particular concerns you might have!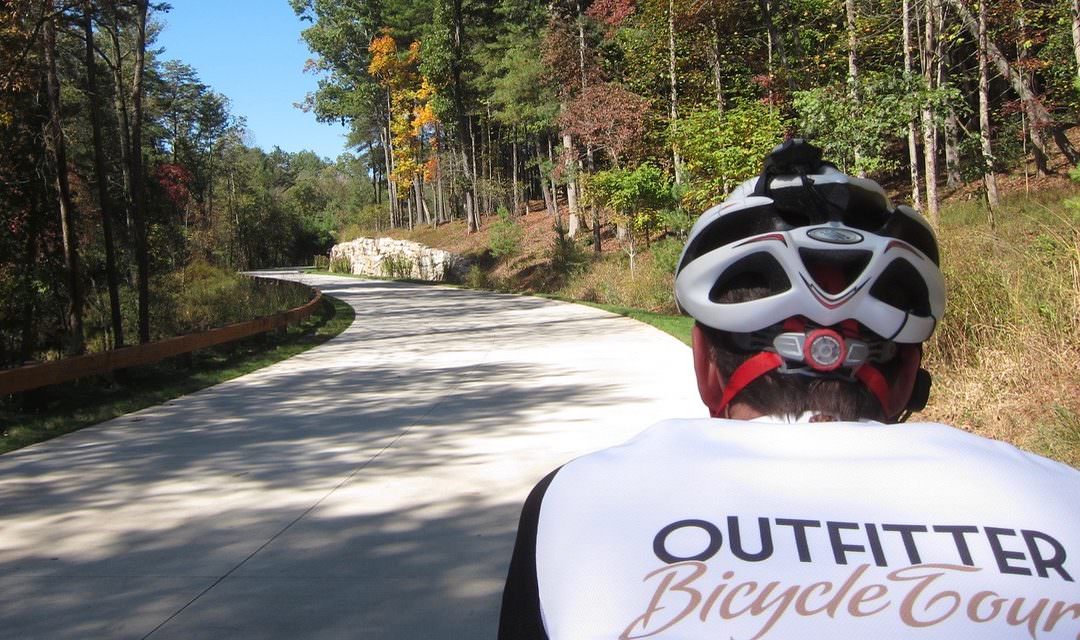 What your bike does
What doesn't it do? Seriously. This machine is a marvel at taking us far and away from our lives. It provides an escape, adventure and a means to feel alive! It's been thought from the early days of the pandemic that bike riding is one of the safer activities. You can read our previous post about bike riding during the pandemic here. 
The bottom line is that an Asheville cycling vacation may be just the ticket to cure your pandemic blues. Especially while the European borders are still so tight. So you see, Asheville bike tours might be the best vacation option right now. Review our standard Asheville tours below and then make them your own!