Our 10-night relaxed bicycle tour of Dordogne is the best choice for those looking to immerse themselves in the region. Enjoy a leisurely exploration of the Vezere River Valley, with its numerous prehistoric sites, and the Dordogne River Valley, with its amazing old dwellings hanging from the cliffs, provide the backdrop for optional excursions. Daytime loop rides to the Le Bugue market, Montignac, Cerennac and Castelnau punctuate multi-night stays in Les Eyzies, La Roque Gageac, Meyronne, and Sarlat.
Our Dordogne tours feature small, family-owned hotels that serve delicious breakfasts, which, in addition to six gourmet dinners, are included in the price. The stunning Dordogne region is a well-kept secret among the French. Wonderful cycling roads, beautiful countryside and 40,000 years of history to explore make it the perfect arena for an unforgettable bicycle vacation in France. See full itinerary below. CLICK HERE to learn more about our Dordogne bicycle tours.
Dates: Your pick! We offer tours in the Dordogne as early as March and as late as October and into November.
Length: 11 days, 10 nights
Service: Supported, Private, "Self Guided" tour. For more about how our Self Guided tours work CLICK HERE.
Type of riding: Rolling to flat terrain with some climbs.
Bikes suggested: Road bikes, e-bikes, or hybrids
Average daily riding: 50km
Start city: Les Eyzies
Finish city: Les Eyzies
Suggested transport: Train from anywhere.
We work with only local guides, cooperating with those that have a love for cycling, and a desire to show guests the beauty of the land they call home. On our self guided tours we do not bring in guides from other destination to work with you. Having the local perspective only enhances your experience, providing insider knowledge and opportunities that only a local resident can offer.
From greeting guests when they arrive, to personally handling luggage transfers, to curating excursions, to problem-solving (e.g., flat tires and other unforeseen issues) our concierges assist guests daily. They also set you up on your rental bikes, and can help with routing and simple questions. Need help finding a good lunch spot? Is it raining too hard or you're too tired to continue? The concierge is a phone call away and are there to help you! Each tour group works with a single, dedicated concierge who can be called upon for in-person assistance at any time.
We generally target 3 and 4-star hotels, which we hand select to maximize comfort while minimizing cost. The star rating is using a French rating system, which has proven to be the standard around the world. Therefore we use the same standards in France and beyond.
Over the years we have developed relationships with many amazing 3 and 4-star properties that distinguish themselves as providing much more than their rating suggests. We have loved getting to know these hotels and sharing them with our guests. For tour groups wishing to upgrade their accommodations, we can provide custom pricing for four and five-star hotels, pending availability. Below are an example of some of our favorite hotels in the region that we target using on our tours, pending availability.
| | | |
| --- | --- | --- |
| Location | Hotel | Photo |
| Les Eyzies | Hotel Cro Magnon | |
| Montignac | Hotel La Roseraie | |
| Sarlat | Hotel Restaurant La Couleuvrine | |
| La Roque Gageac | Hotel Belle Etoile | |
| Meyronne | Hotel La Terrasse | |
All bikes come with helmet, repair kit, pump (or CO2 cartridges), lock, and water bottles. During the registration process, you will be asked for sizing specifics to ensure we have the correct sized bike waiting for you. We can supply a number of styles of pedals – please ask if you don't see the pedal type you're looking for on the registration form.
Road Bikes: Our rental road bikes are a racing style with drop handlebars.
Type – Road
Sizes – 47cm, 50cm, 53cm, 56cm, 58cm, 60cm, 62cm
Components – Aluminum frame with midrange of Shimano components. Triple or compact chainrings.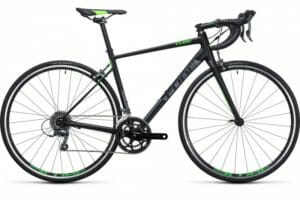 Hybrid Bikes: Our rental hybrid bikes are a relaxed style with flat handlebars.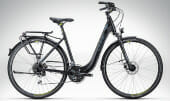 Type – Hybrid
Sizes – 46, 50, 54 with sizing for all sizes.
Components – Mixture of Shimano road and mountain components with either triple cranksets.
eBikes: These semi-powered bikes allow for non-riders to share the experience with their friends and family who are stronger cyclists.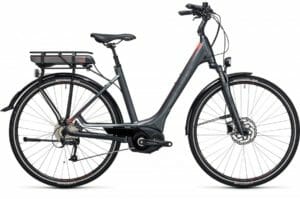 Type – eBike
Sizes – S, M, L
Components – Mixture of Shimano Acera and Deore.
WHAT IS INCLUDED:
All hotel accommodations – mostly 3 and 4 star but ask for custom accommodation requests.
An OBT cycling jersey!
Detailed route notes, maps, and tourist information. This includes standard cue sheet, and GPS courses to upload to your own GPS device.
Luggage transfers from hotel to hotel.
Meals as explained in the tour itinerary pages. Usually this means all breakfasts, no lunches, and some dinners.
Access to your personal guide/concierge (See Guides/Concierge tab).
WHAT IS NOT INCLUDED:
Transportation to start location and from finish location.
Bikes, but we have rental bikes available.
Travel and Health Insurance.
Admission to sightseeing venues, unless explicitly mentioned as included.
Available to rent for $150 per unit per tour. These easy to use GPS units provide an excellent worry-free routing method that you can depend on throughout your tour.
If you choose to rent we will have the until ready for use with the routes pre-loaded onto the unit. All you have to do is start the daily route at the beginning of your riding day, and follow the highlighted line! We will also provide instructions that you can reference when needed. As a backup and supplement to the GPS, we will also provide a local map as well as routing instructions.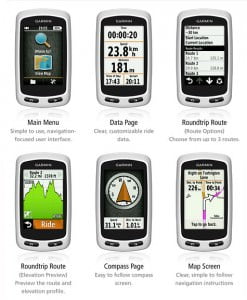 Tour Cost Per Person:
Double Occupancy: US$2,845
Single Occupancy: US$3,445 (for single room occupancy on multiple person tours)
Solo Tour: Please contact us
Bike Rental Per Person:
Road Bike: US$480
eBike: US$480
Hybrid: US$295
What's Next? Registering for your tour!
Questions: First, please feel free to ask us any questions about the tour. We are happy to help clarify any details.
Registration: Once you are ready to register please go to https://outfittertours.com/registration/ and complete the registration form. EACH tour participant will need to complete the form. At the end of the registration for you will be asked for a US$800 deposit. You can pay the deposit by bank check, wire, or credit card. Once we have all registrations we will secure all of the details of your tour – hotels, bikes, etc.
Final Payment: 60 days prior to your tour we will invoice you for the balance of the tour.
Tour Packet Delivery: Once the balance is paid and approximately 30 days before your tour we will send you a complete tour packet containing all details of your tour – accommodation information, detailed routing, a suggested packing list, maps, tourist guide, and much much more!
For more information on our Terms & Conditions please CLICK HERE.
Daily Itinerary:
Day 1: Les Eyzies Arrival
Welcome to the pre-history capital of France, Les Eyzies! We will meet you at the train station and, depending on the time of your arrival, assemble your bicycle or take you to be fitted for your rental. Hear a short orientation and take an afternoon warm-up loop if you are eager to be in the saddle, or visit historical sites by foot if you want to stretch your legs. When you are ready, we will take you to your spectacular historic hotel—one built into the side of the cliffs next to where the Cro-Magnon man remains were discovered. Settle in for three nights.
Day 2: Le Bugue Market & Vezere Loop Ride – 32km
Depart early to catch a local street market in Le Bugue, 10km down the Vezere River from your hotel. It is an excellent market and a great way to adjust yourself to the local way of life. After visiting the market, return to Les Eyzies for the day or take a beautiful loop ride that begins with a pedal down to where the Dordogne and Vezere Rivers meet. Dinner is on your own tonight.
Day 3: Montignac Visit Along the Vezere – 25km
Today you follow the Vezere northeast to Montignac with several great pre-history sites along the way: Site Madeleine, Le Roque St. Christophe, and also the lovely Chateau de Losse. The day's 25km ride is modest in distance but rich in things to see, with several short but steep climbs. We recommend the town of St. Leon for a picnic or cafe lunch before continuing to Montignac. Explore at your leisure before returning to Les Eyzies for dinner at the hotel.
Day 4: Les Eyzies to La Roque Gageac – 31km
Today you leave the Vezere River Valley and enter the Dordogne. After an optional visit to Font de Gaume (where you will find original cave paintings) you will spend the morning climb over the hill to the Dordogne River. Your destination is an amazing village built into the cliff walls along the banks of the river. Along the way you will visit the beautiful village of Beynac and its old fortress chateau from the middle ages, settled high on the cliffs above. A very full day, but only 40km. Settle in for 2 nights at our hotel overlooking the river. Dinner is at your hotel tonight.
Day 5: Domme, Castelnaud, & Chateau Les Milandes – 27km
If you like a completely flat ride, today is your day. You will first visit the old fortress chateau of Castelnaud and explore its siege weapons collection. Next is Chateau Les Milandes, the former home of American entertainer Josephine Baker. A hilly option is available if you crave a climb (2 steep kilometers will find you on the cliffs of Domme). You can also canoe on the Dordogne or take a guided tour by boat. If you did not visit Beynac yesterday, that can also be done today. Or, you can just hang out in this lovely town – one of the Plus Beaux Villages de France (designated as one of Frances most beautiful villages, as is Domme). Dinner is on your own in the village tonight.
Day 6: La Roque Gageac to Meyronne – 53km
A great ride today along the Dordogne River will lead you to the Lot region. It is a 53km rolling ride to Meyronne with several hills, but you have all day to get there—take your time and enjoy the beauty. The route goes through Souillac, a lovely town on the Dordogne with a historic old abbey. Then on to Lacave and its grotto and then a bit further along a beautiful road to Meyronne. Your hotel which dates to the 11th century overlooks the Dordogne River, has a pool and a great restaurant. Dinner tonight is at your hotel. From there, settle in for 3 nights.
Day 7: Rocamadour Exploration – 51km
This is a beautiful sightseeing day with two very different destinations: Gouffre de Padirac and Rocamadour. The Gouffre is a 100 meter deep hole in the ground which leads to caverns formed by an underground river that is navigable by boat. Rocamadour is a famous stop along the pilgrimage route to Santiago de Compostela. A 30km ride with a lot of climbing awaits you if you choose Rocamadour alone. Add another 24k if you go to the Gouffre as well. You are on your own for dinner tonight in the village of St. Sozy across the river or again at your hotel.
Day 8: Carennac and Castelnau Loop Ride – 31km
Today is a great day to just hang around the pool, visit the town of St. Sozy across the river, or maybe visit the cave at Lacave just 7km away. If you would prefer a day on the bike, take a ride along the upper Dordogne River and pay a visit to Carennac and the old fortress at Castelnau. If you still need more, there is a great Plus Beaux Village, Loubressac, high on a hill overlooking the upper Dordogne. Dinner is again at our hotel.
Day 9: Meyronne to Sarlat – 51km
We retrace our route back down the Dordogne River, bypassing Souillac and riding some lovely new roads. We then get on a bike path (Piste Cyclable) for our ride into Sarlat, the regional capital known for its old town and shops and history dating back to the 9th century. It is an easy rolling 51km with one big hill in the morning. Dinner is in Sarlat at your hotel.
Day 10: Sarlat Market & Exploration
You will wake to the sounds of people milling about in the old town street market below. After breakfast, explore this magnificent market on your own! Local food, fabrics, clothing and art will be on display. In the afternoon, spend time visiting some of the town's many pre-history attractions before riding back to Les Eyzies. Your farewell dinner is at the hotel.
Day 11: Les Eyzies departure
Sleep late, have a leisurely breakfast, and enjoy your final morning in Les Eyzies. We will collect your bike if you rented one, and help transfer your luggage to the depot, before bidding you farewell!