Do you know what Tuscan city we don't talk about nearly enough? Cortona. In light of this fact, we thought we'd share our top 5 things to do in Cortona.
Cortona is a favorite stop on our Tuscan bike tours. This small hill town has an incredibly rich history. George Dennis, an explorer and Etruscologist, said "You may have traveled far and wide in Italy, but you have certainly never seen anything more venerable than Cortona. Before Troy was founded, before Hector and Achilles fought beneath its city walls, Cortona already existed…"
Cosimo I de' Medici had a heavy hand in how the stories are told about Noah enjoying the fertility of the land and staying in the area for 30 years. The story continues that Noah's grandson fell in love with the hillside where he eventually built the town of Cortona. How can you not fall in love with a story like that?
We always suggest guests stay at the Hotel Villa Marsili in the heart of Cortona. This is the perfect location to explore all that the town has to offer. From medieval architecture and splendid churches to wide-open vistas and heavenly restaurants, Cortona boasts plenty of venues to explore. We thought we'd make your trip a bit easier by naming our top 5 places to visit in Cortona.
Our top 5 lists historically include restaurants, museums, churches, gelato vendors, markets and special spots in the area. We hope to inspire you to have a full experience of some of our favorite places! This list is no different.
"You may have traveled far and wide in Italy, but you have certainly never seen anything more venerable than Cortona. Before Troy was founded, before Hector and Achilles fought beneath its city walls, Cortona already existed…"
George Dennis
Explorer and Etruscologist
Now to our favorite things to do in Cortona!
Take in a meal at Il Falconiere
There are some restaurants that give you more than a simple good meal. They present an entire experience from walking in the door to be greeted by gorgeous golden hour light to that final tantalizing course of seasonal excellence. Il Falconiere is one of those restaurants. The Michelin Star that accompanies any mention of Il Falconiere is well earned. We have many happy memories of evenings spent on the patio or in the romantic dining room and we think you'll love it there too.
Head to one of the town markets
You should always make time to visit a local market. It is the single best way to experience a culture. The food, the artisan goods and the locals are all stitches in the town's makeup. The Saturday market in Cortona is no exception. If you're lucky, you can time your visit with the antique market that visits Cortona once a month.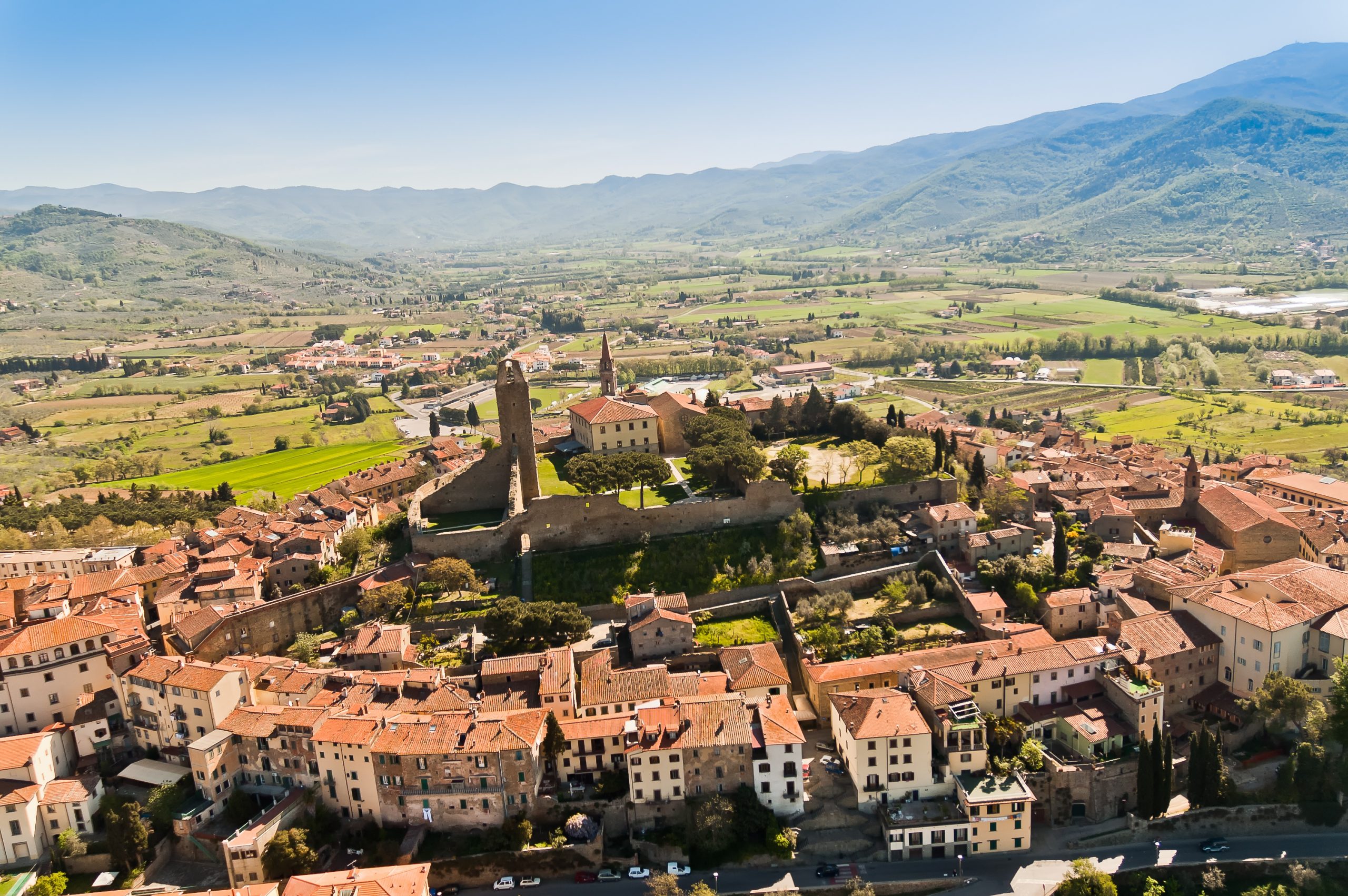 Take in the views from Plaza Giribaldi
Cortona is a hill town and boasts spectacular views from the top of town. You can view Lake Trasimeno and much of the gorgeous Tuscan landscape from the piazza. It's absolutely a beautiful space to be thankful you're in Tuscany and living your best life! If you want to sound like a local, make sure you refer to the piazza as Piazza Carbonaia. This old name of the piazza is still favorited by those lucky souls who call Cortona home.
Visit the Etruscan Academy Museum
If history is what drives you in experiencing other cultures, you'll find your home at the Etruscan Academy Museum. This truly magnificent display of significant pieces from the Etruscan, Egyptian and Roman cultures are certainly worth the visit. You should pay special attention to the bronze Etruscan hanging lamp.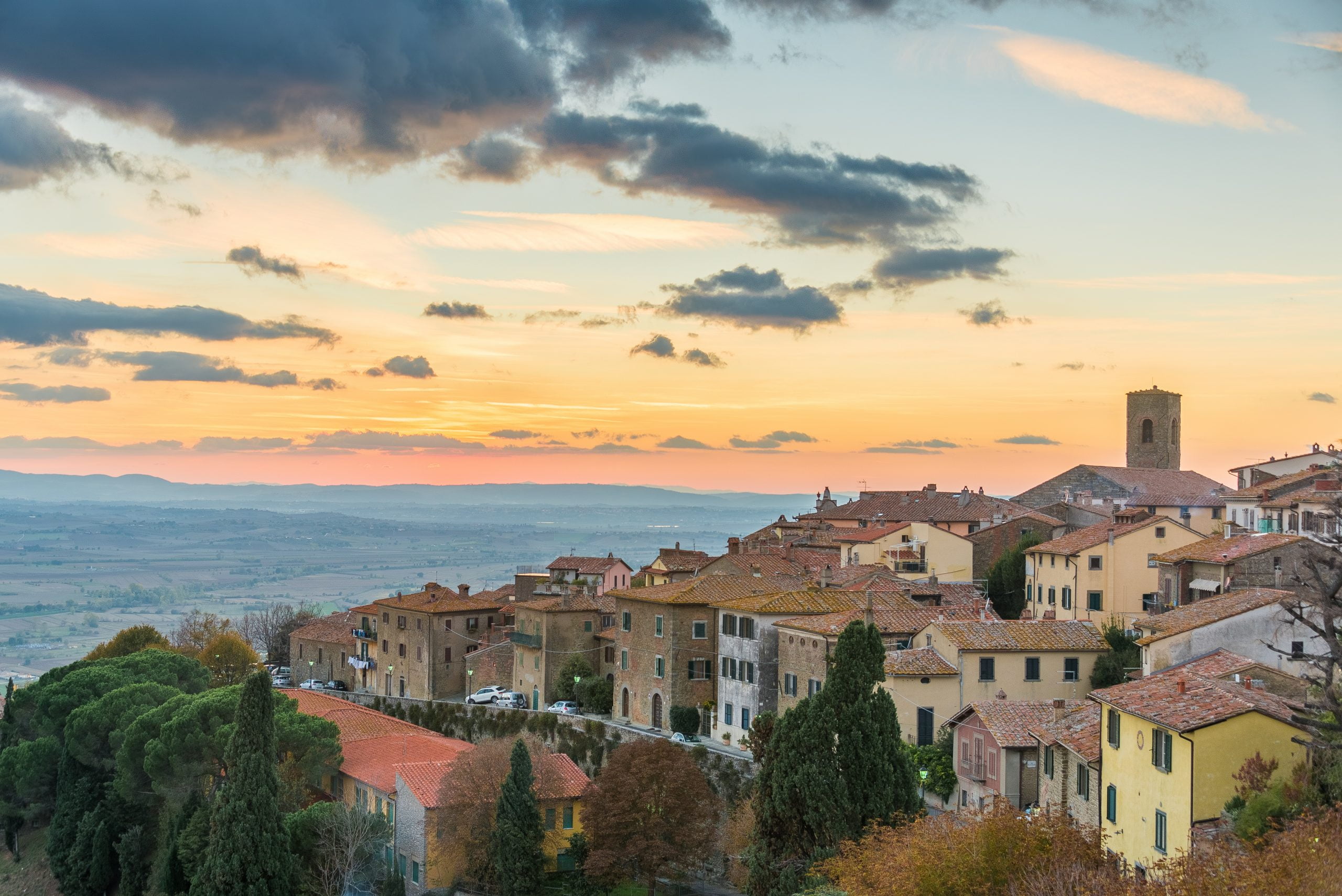 Take a moment at the Santa Margherita Sanctuary
You can't visit an Italian town without a visit to a Catholic church. It's necessary and it's inspiring. The architecture, the reverence and the tradition all come alive when you step into this stunningly beautiful sanctuary. Dedicated to the Cortona native who turned to God and prayer when she found her husband murdered in the woods outside of Cortona. You can view the incorrupt body of this dedicated woman in the sanctuary. 
These are our top 5 but of course there is so much more to Cortona. The Franciscan hermitage Le Celle dating back to 1211 and built by St. Francis of Assisi is also worth a visit. You may remember Cortona from the movie Under the Tuscan Sun. Loosely based on a true story, the author, Francis Mayes bought her famous Villa Bramasole on the outskirts of Cortona.  You can actually walk from town to see the real villa (different from the one portrayed in the movie).
This small town sure packs a cultural punch. The history, the beauty, the eats and the views are all something you will take with you on your many travels. It's a dream stop on your bike tour and you won't regret spending time wandering the streets of Cortona!