There are few cities we visit as regularly on our bike tours that have the same historical significance as Florence. The seat of the renaissance, Florence has been the backdrop of countless political and religious struggles. It is also where we start all of our Tuscany tours.
There are so many wonderful things to do in the romantic and charming Florence that it was definitely hard to pick just 5. However, since most of our guests choose to spend at least an extra day in Florence before beginning or after ending their bike tour, we wanted to share some of our favorite things to do in the capital city of Tuscany. Read along on our road map of the top 5 things to do in Florence and get inspired.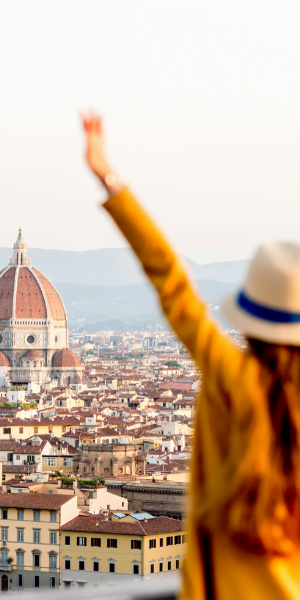 #1 The Duomo
If you do only one thing while in Florence, you must visit the Cathedral of Santa Maria del Fioro. It is one of the most recognizable and iconic churches in Europe and a testament to the brilliance of Renaissance master Filippo Brunelleschi (even though he was only one of many to influence the construction of the beautiful church). It's just as gorgeous on the inside as it is on the outside. Once you enter the church (entry is free by the way) pay particular attention to the clock above the door. Built in 1443, it still works! This church defines the skyline of this ancient city and our favorite way to take in this beautiful church is our #2 in our list of top 5 things to do in Florence. 
"Everything about Florence seems to be colored with a mild violet, like diluted wine."
Henry James

#2 The Piazza Michelangiolo
Either a short hike from downtown or a quick bus ride, the Piazza Michelangiolo (or Michelangelo) is another must-see in Florence. You will be welcomed with a breathtaking view of the city, complete with demanding presence of the Duomo. While this plaza is not as old as most of Florence (actually not constructed until the late 19th century), it is still one of the best places to grab a cup of coffee or a gelato and watch the sun set. This place, while touristy, will truly make you stop and wonder at the beauty and history of Florence.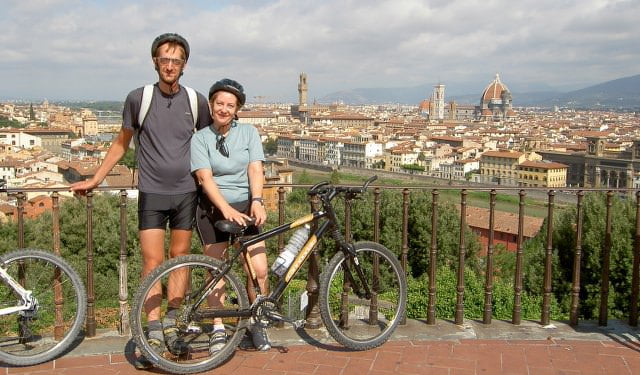 #3 The Baptistry of St. John
The Baptistry is one of the oldest buildings in Florence as it was built in 1100. Many notable Florentines were baptized here, including several members of the Medici family. Some of the design elements are worth your time to study and digest their brilliance. The bronze doors and the mosaic ceiling are stunning. The east doors by Lorenzo Ghiberti are a crowd favorite. Even Michelangelo called them fit to be the "gates of paradise," as they are still called today. 
#4 Semel
Finally! Something on our list that is edible. Semel is an exceptional sandwich shop in the Piazza Lorenzo Ghiberti (remember he created the Gates of Paradise?). The small shop produces some of the most delectable sandwiches we've ever eaten. And that's saying something. This TripAdvisor review pretty much describes how we feel perfectly : "If you wanna experience a gourmet meal served inside fragrant Italian bread and eat it on a side walk with a bunch of locals while drinking a glass of Chianti, this is the place." This. Is. The. Place. You will have to eat while in Florence, so why not enjoy it? 
#5 Mercato Centrale
Eat, drink and shop at the Mercato Centrale. We always try to check out the local markets when traveling. It's a wonderful way to get a quick immersion into the local and regional cultural. Florence is no exception. The Mercato Centrale is a lively center of commerce and cultural identity for the people of Florence. Stop by and get a bottle of olive oil to take home as a souvenir. 
These are our top 5 things to do in Florence but there are many many more depending on your interests. If you love to shop, then you must visit the goldsmiths on Ponte Vecchio and leather artists at the San Lorenzo Market. If you love art, you have to stop at the Uffizi Gallery and Palace. Or maybe history hits closer to home? You can learn all about the Medici at the Medici Palace (now a museum). Of course the gelato, wine and cuisine are also fabulous. 
So, are you inspired? Let's make your dreams come true and create a Tuscan bike tour vacation that starts in Florence, the heart of Tuscany. Click here or below to review our wonderful variety of Tuscan cycling vacations.
Come experience Florence with us!