The way we are choosing to travel is changing. With smart phones, GPS, language translation apps and cheap flights, we've become much more independent and adventurous. Travel has become a part of our lifestyle. This change can also be seen in the cycling tour industry. If you're an avid cyclist you're no longer stuck with the traditional fully guided tour. Self-guided bike tours are becoming increasingly popular and allow you the freedom to create a custom tour that fits your own sense of adventure.
Self-guided bike tours have carved out a great niche that exists in between the expensive luxury tours and the complete DIY option. With a self-guided tour, you won't have a support van following you with dry clothing, snacks, and a mechanic. But that doesn't mean you won't receive quality support on your trip. Plus you'll be gaining the flexibility to travel how you want to, when you want to. You are free to create your own personalized vacation.
When choosing a self-guided tour be sure to look for these details.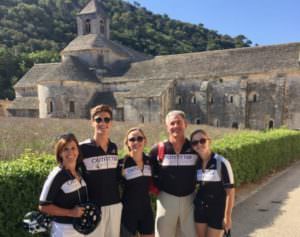 Flexible dates
Plan your trip dates and your trip length around your own schedule. If you want to go longer than the standard 4-7 days, go for it! There is no need to stick to a fixed calendar of tour dates.
Carefully designed custom routes
Whether you're a serious cyclist or a want to take it easy and see the sights, itineraries should be custom built just for you. Daily routes will be custom planned with the difficulty and distance that your group wants.
GPS navigation
One of the best and most fundamental pieces of technology on self-guided bike tours is the GPS. Obviously, it's great for Strava and sharing your epic routes with friends, but it's also the best way to help you get around the country and follow your tour route. All tour companies should now make their routes downloadable for your GPS unit. The top companies will go one step further and supply you with a pre-loaded GPS device for you to use during your tour. Of course, we all know that things happen, so full turn-by-turn daily cue sheets and old fashioned paper maps should be supplied as backups.
Local support at your destination
Local support is one of the most important considerations, and where the best tour companies can set themselves apart. At a bare minimum, you should be sure you're getting the following basic support.
A concierge/guide to meet you at your arrival
Local "on-call" phone support for emergency assistance
Luggage transport
Again, the best companies will go a step further and provide a local dedicated concierge for the duration of your tour. Your concierge will welcome you when you arrive, sort out your rental equipment and personally manage your luggage transfers. If you'd like help with sightseeing or wine tasting, they will also help you create the best off-bike experiences. In an emergency, your concierge will even come out on the road to assist you. Seriously, this sounds great. I wouldn't even miss the support van!
The Outfitter Bicycle Tours guides and concierges are definitely held to a higher level than most. You'll see their guides regularly, and some even will ask to ride with you at times! They will also actively suggest great off-bike excursions.
Choosing your travel mates
Take a tour with your partner, by yourself, or with a big group of your best friends. There is no need to worry about spending your vacation with a bunch strangers. You are creating your own private cycling vacation!
Now for the adventure part
While the self-guided tour really liberates you from the confines of a traditional guided tour, there is a bit of adventure required. You should be comfortable doing minor bike repairs by yourself. At least knowing how to change a flat tire, making adjustments to your saddle and handlebars, and fixing a dropped chain will usually be enough to get you through the day.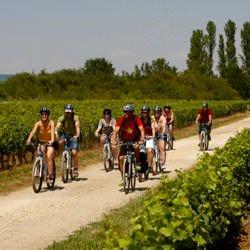 The weather might get crummy. You've only got your own leg power to get you to the next town. Don't worry, you can find a coffee bar where you can wait out the storm. Plus riding in the rain is extra epic. With Outfitter Bicycle Tours a call to your guide/concierge for a ride is always an option, make the most of the situation!
Be bold and talk to the locals. As cyclists, we know that bikes are the best way to see a new country. Talking to the locals is the best way to complete that experience. Free language learning apps and translation apps can open up a new world for you. Instead of letting a tour guide do the talking for you, jump in and talk with the people you meet and have a grand adventure!