After a gorgeous day of pedalling and sightseeing through Tuscany, you will have worked up a hearty appetite. Luckily you are in the perfect place to indulge! When on your Tuscan adventure with Outfitter Bicycle Tours, take time to really enjoy the local food. Here are 5 Tuscan specialties that you must try.
Cinghiale
Cinghiale, Italian for wild boar is one of the big specialties in Tuscany. You can typically smell it simmering as you walk through any town on a weekend morning. Whether it's served as a hearty ragù over fresh handmade pasta, or stewed with rosemary and black olives with polenta, definitely give it a try. You can also find local prosciutto and salame made with cinghiale. Yum!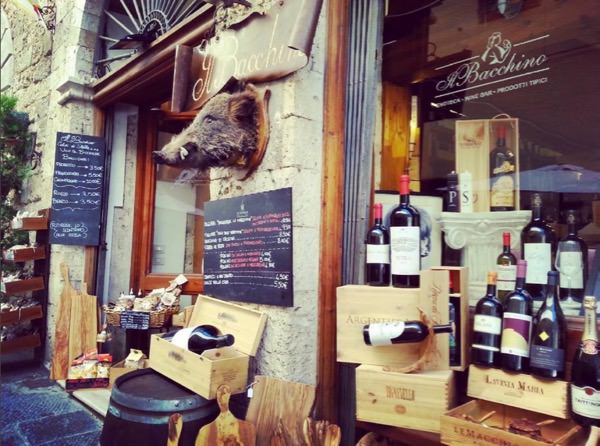 Crostini
Slices of Tuscan bread topped with an array of toppings such as chicken liver pate, olive pate, or tomato and basil. One local version is simply grilled bread rubbed with garlic and drizzled with olive oil and salt. The bread in Tuscany is interesting in itself as it's all typically made without salt and has been like that for centuries. Some cyclists from Florence once told me their version of the history of saltless bread. In the middle ages all the salt came from their neighbors and rivals, Pisa. The rulers of Pisa, trying to squeeze more money from their enemies in Florence, put a heavy tax on salt. Florence decided to go without, and the bread has been made this way ever since.
Pecorino cheese
Pecorino or sheep milk cheese can be enjoyed many ways. There is the fresher softer version, or the sharper firmer aged version. Pecorino can be eaten with salame, melted into pici cacio e pepe (a pasta dish) or enjoyed on its own with fresh honey. The town of Pienza in particular smells like pecorino cheese as you walk down its streets. In fact half of the shops in Pienza are cheese shops.
Porcini mushrooms
It's common during the late summer or autumn to see random cars parked on the side of the road near the forest. The owners of that car are likely looking for wild porcini mushrooms. Many locals have their own secret hunting spots. The wild variety are big and meaty and used in popular soups and pastas. Try the fresh tagliatelle with porcini mushrooms.
Bistecca alla Fiorentina
The bistecca alla Fiorentina, or steak Florentine is the most popular food in Tuscany for the meat lover. Thick, grilled, and seasoned to perfection, the butchers in Tuscany are among the best in the world. Some restaurants have long open wood grills where they will prepare different cuts of meat right in front of you. A whole proper Fiorentina is enormous. Bring your appetite and drink plenty of Chianti!
Wow.. it's a good thing you rode your bike today! Enjoy the Food in Tuscany!