We are very pleased to be rolling out a fleet of Garmin Edge Touring GPS units self guided tours! They will come included in your tour fee for self guided tours in Tuscany, Provence, and Asheville. For other self guided destinations please reach out to us for rentals.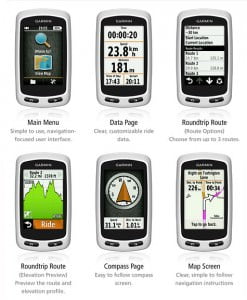 The Edge Touring GPS units are perfect for our self guided tours, specifically geared to help a touring cyclist find their way. With its big color screen, it features many of the great navigation tools that you would expect in a car nav system. This includes "point of interest" searching. Read: "great way to find lunch spots which on the road!" It also features a re-routing feature that will allow you to find your way in case you're lost.
For the past several years we have been including links to GPS route files in our self guided tour Tour Packets, but with our new GPS units we will have the GPS route files pre-loaded when you arrive for your tour. That means, when you start your day on the bike, all you have to do it select your day's route on the unit and follow the purple line! It will even give you turn by turn beeps and descriptions as you approach each turn.
Here are some of the features that Garmin highlights for the Edge Touring:
On-road or off-road navigation with preloaded Garmin Cycle Map
Input a distance and choose from up to 3 round-trip ride options
Plan and download new routes to follow
Relive and share your rides with Garmin Connect™ or Garmin Adventures
Points of Interest (POIs) specifically for cyclists
We are excited about this new development in our self guided tour options, and look forward to expanding the use of GPS units to other destinations and tours in the future. Yes, we will continue to provide our existing daily route methods as well (turn by turn and prose narratives) in addition to your complimentary Michelin map!