There are many phenomena associated with cycling. But there is one activity that bonds all of cycling regardless of how or what you ride – DRINKING BEER. And not just any beer, but beer with character. We have therefore created our craft beer bike tours.
This bond of bikes and beer led us to create our craft beer bike tours in Asheville, North Carolina. Asheville (AKA: "Beer City USA") is the home of an incredible number of craft breweries in addition to being the east coast brewing center for Sierra Nevada, New Belgium, and Oskar Blues. Locals such as Highlands Brewing, Wicked Weed, and Pisgah Brewing have reputations that are greater than their small brewing capacity would suggest. These craft brewers know a good place to brew when they see it: the best water, climate, and culture to foster the growth of craft brewing in the eastern United States.
Our itinerary suggests splitting time between hotels in Asheville and Brevard – the centers of craft beer in the region. The latter destination is known for its world-class mountain biking. Come and enjoy the beauty of fall in the Blue Ridge mountains! Also, learn more about our Asheville bike tours please CLICK HERE.
"Drink Tripels, don't ride triples"
The interconnectedness of beer and bikes is no better defined than in Velominati Rule #47 (all rules taken at least partially tongue-in-cheek)
"Cycling and beer are so intertwined we may never understand the full relationship. Beer is a recovery drink, an elixir for post-ride trash talking and a just plain excellent thing to pour down the neck. We train to drink so don't fool around. Drink quality beer from real breweries. If it is brewed with rice instead of malted barley or requires a lime, you are off the path. Know your bittering units like you know your gear length. Life is short, don't waste it on piss beer."
How our Craft Beer Tours Operate:
Our craft beer bike tours in Asheville are Self Guided, but if you prefer a Guided Tour in Asheville we can organize a custom guided road and mountain bike tour for you! Please contact us if you are interested!
For general information on how our Self Guided Tours operate, please click HERE. Also, discover more about how we create our self guided bike tours so that they are the best available by reading this blog post.
NOTE! – We DO NOT encourage drinking more than what will affect your riding ability. Remember that you will be riding and sampling beer for several successive days. Ride and drink responsibly!
See full itinerary below.
Dates: Your pick! We offer tours in Asheville as early as March and as late as October and into November.
Length: 6 days, 5 nights
Service: Supported, Private, "Self Guided" tour. GPS Guidance! For more about how our Self Guided tours work CLICK HERE.
Type of riding: Varied – Rolling to flat terrain with some climbs, or you can head to the high mountains.
Bikes suggested: Road bikes, e-bikes, or hybrids
Average daily riding: From 8 miles to 60+ miles. We have routes for all levels.
Start city: Asheville (AVL)
Finish city: Asheville (AVL)/Brevard
Suggested transport: Fly or drive from anywhere.
We work with only local guides, cooperating with those that have a love for cycling, and a desire to show guests the beauty of the land they call home. On our self guided tours we do not bring in guides from other destination to work with you. Having the local perspective only enhances your experience, providing insider knowledge and opportunities that only a local resident can offer.
From greeting guests when they arrive, to personally handling luggage transfers, to curating excursions, to problem-solving (e.g., flat tires and other unforeseen issues) our concierges assist guests daily. They also set you up on your rental bikes, and can help with routing and simple questions. Need help finding a good lunch spot? Is it raining too hard or you're too tired to continue? The concierge is a phone call away and are there to help you! Each tour group works with a single, dedicated concierge who can be called upon for in-person assistance at any time.
We generally target highly rated local hotels and B&Bs, which we hand select to maximize comfort while minimizing cost. These are generally considered 3 to 5 star hotels using the French rating system. This rating system has proven to be the standard around the world. Therefore we use the same standards in France and beyond.
Over the years we have developed relationships with many amazing 3, 4 and 5-star properties that distinguish themselves as providing much more than their rating suggests. We have loved getting to know these hotels and sharing them with our guests. For tour groups wishing to upgrade their accommodations, we can provide custom pricing for nicer four and five-star hotels, pending availability. Below are an example of some of our favorite hotels in the region that we target using on our tours, pending availability.
| | | |
| --- | --- | --- |
| Location | Hotel | Photo |
| Asheville B&B | Chestnut Street Inn | |
| | | |
| Asheville Premium Hotel | Grove Park Inn | |
| Brevard B&B | Red House Inn | |
All bikes come with a helmet, repair kit, pump (or CO2 cartridges), lock, and water bottles. During the registration process, you will be asked for sizing specifics to ensure we have the correct sized bike waiting for you. We can supply a number of styles of pedals – please ask if you don't see the pedal type you're looking for on the registration form.
Road Bikes: Our rental road bikes are mostly gravel bikes. Gravel bikes have a road bike geometry with drop bars and larger tires for all-terrain riding. It makes for a comfortable overall ride. If you prefer a racing road bike with skinnier tires, please ask us.
Type – Carbon Road/gravel
Sizes – 50 to 62 cm
Components – Mixture of Shimano 105 and Ultegra with either triple or compact double cranksets. Many have road-disc brakes.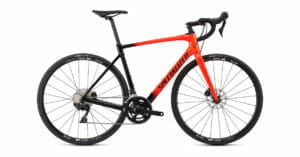 Hybrid Bikes: Our rental hybrid bikes hard-tail mountain bikes with road oriented tires. They have a relaxed style with flat handlebars.
Type – Hybid/MTB (Aluminum)
Sizes – XS, S, M, L, and XL
Components – Mixture of Shimano road and mountain components with either triple cranksets or compact double.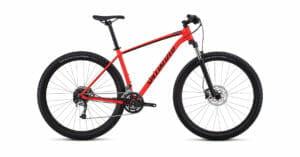 eBikes: These semi-powered bikes allow for nonriders to share the experience with their friends and family who are stronger cyclists. We have limited supply of eBikes, so please contact us to ensure we can supply them.
Type – Electric-assist eBikes
Sizes – S, M & L
Components – Mixture of Shimano Acera and Deore.

WHAT IS INCLUDED:
All hotel accommodations – mostly 3 and 4 star but ask for custom accommodation requests.
An OBT cycling jersey!
The use of a Garmin Touring GPS during the tour for worry-free routing.
Detailed route notes, maps, and tourist information. This includes standard cue sheet, and GPS courses to upload to your own GPS device.
Luggage transfers from hotel to hotel.
Meals as explained in the tour itinerary pages. Usually this means all breakfasts, no lunches, and some dinners.
Access to your personal guide/concierge (See Guides/Concierge tab).
WHAT IS NOT INCLUDED:
Transportation to start location and from finish location.
Bikes, but we have rental bikes available.
Travel and Health Insurance.
Admission to sightseeing venues, unless explicitly mentioned as included.
Included in your tour fee is the use of one of our Garmin Edge Touring GPS units for the duration of your tour. These easy to use GPS units provide an excellent worry-free routing method that you can depend on throughout your tour. When you arrive the daily routes will be pre-loaded, and ready for you to use each day of your tour. All you have to do is start the daily route at the beginning of your riding day, and follow the highlighted line!
At the beginning of your tour your local guide will show you how to use the unit. We will also provide instructions that you can reference when needed. As a backup and supplement to the GPS, we will also provide a local map as well as routing instructions.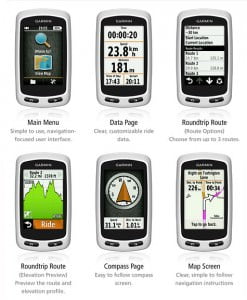 One unit will be provided to each four guests. If you need additional units they will cost $125 per unit per tour for rental.
For our Asheville Area Tours we offer several additional activities that can be added into the vacation. Note that 1) we will need to plan these ahead and cannot be added at the last minute, 2) there may be extra costs involved, and 3) you may be joined by other participants in the adventure.
Brevard Mountain Biking: Experience the local mountain bike trails including Pisgah National Forest and Dupont State Forest. A hardtail bike is included, and an upgrade to a nicer (full suspension) bicycle will cost $50 per person. Lunch is included. Cost: $400 for two, full day. Ask if there are additional participants.

Hiking: Explore the backcountry trails of Pisgah National Forest and Dupont State Forest which surround the towns of Brevard and Asheville North Carolina, NC. We can provide you with a trip that offers spectacular views and scenic waterfalls. Timing options: 1) All day – Cost: $275 for two, $40 for each additional person; Or 2) Half Day – Cost: $200 extra for two, $35 for each additional person.
Biltmore Estate: Tour the house, visit the winery, and enjoy the complete splendor of the entire estate. We will transport you onto the estate and onto their bike paths (they do not allow bikes on the main roads). Timing: All day. Cost: $65 per person.
Brewery Tours in Brevard: The tours will consist of visits to the Pisgah Tavern, Oskar Blues Brewery, and Brevard Brewing Company. Timing: Afternoon and evening. Cost: $35 per person.
Stand-Up Paddleboard Tour: Ride the French Broad River on a SUP! Timing: Morning. Cost: Contact us.
Canyoneering & Climbing: Check our the waterfalls and cliffs of the Blue Ridge up close! Timing: Morning. Cost: Contact us.
Tour Cost Per Person: Our Asheville area tours are often custom designed and priced. The below pricing is for the sample itinerary below during much of our tour season. Pricing can vary widely depending on the time of year. For example, October rates are higher due to the fall color season. Contact us for specifics.
Double Occupancy: US$1,795
Single Occupancy: US$2,295 (for single room occupancy on multiple person tours)
Solo Tour: Please contact us
Bike Rental Per Person:
Road Bike: US$325
eBike: US$325
Hybrid: US$225
What's Next? Registering for your tour!
Questions: First, please feel free to ask us any questions about the tour. We are happy to help clarify any details.
Registration: Once you are ready to register please go to https://outfittertours.com/registration/ and complete the registration form. EACH tour participant will need to complete the form. At the end of the registration for you will be asked for a US$800 deposit. You can pay the deposit by bank check, wire, or credit card. Once we have all registrations we will secure all of the details of your tour – hotels, bikes, etc.
Final Payment: 60 days prior to your tour we will invoice you for the balance of the tour.
Tour Packet Delivery: Once the balance is paid and approximately 30 days before your tour we will send you a complete tour packet containing all details of your tour – accommodation information, detailed routing, a suggested packing list, maps, tourist guide, and much much more!
For more information on our Terms & Conditions please CLICK HERE.
Daily Itinerary:
Day 1 – Arrival in Asheville
To start your craft beer bike tour we will pick you up at the Asheville Airport (AVL) and take you to our hotel, or we will meet you at the hotel. Relax and enjoy the town. Start to sample some of the downtown breweries like Green Man and Wicked Weed. We'll help you build your bikes up, or set you up on rental bikes. We'll have a quick loop ride through town to get you oriented to Asheville.
Day 2 – Asheville Loop Ride – 8 to 75 miles
Today we ride in the countryside which will include scenic and varied terrain. The ride will include at least one brewery visit. Dinner is on your own in town. There are many fantastic options and we'll have suggestions.
Day 3 – Asheville Loop Ride – 20 to 60+ miles
Today you can several ride options: Keep it close to town with a local town ride. Or ride northeast of town towards Marshal and Leicester, or keep it close to town with a local ride – locals regularly use the quiet roads towards Marshall for leisure and training rides. Or head to the high mountains!From pottery visits and gallery browsing, to conquering the 6,684 ft (2,037 m) high Mt. Mitchell. We will make sure you have the experience you are looking for. Dinner is on your own in Asheville. There are too many options to choose from, and we will have suggestions for you. You'll quickly realize why Asheville is known for its culinary reputation. Cap off the day at another local brewery such as Green Man, Wicked Weed, or many others that we can guide you to.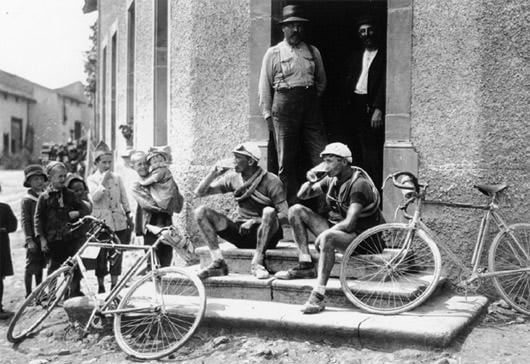 Day 4 – Asheville to Brevard – 20 to 75 miles
You'll be transitioning from the city to the country, as we hit the road and head southwest of Asheville to the small town of Brevard. You'll have ride options that vary from a rolling ride of 20 miles to an epic day though the mountains. On your options you'll be able to through the Biltmore Forest and past Sierra Nevada Brewing's new east coast facility in Mills River. Sierra Nevada is a great place for lunch. Any route you choose, it will be a beautiful day on the bike. Dinner is on your own in downtown Brevard.
Day 5 – Brevard Loop Ride w/ Mountain Biking Option – 10 to 50 miles
Today is about options – ride in the mountains to near Mt. Pisgah (nearly 6,000 feet in elevation), along rolling roads, or going mountain biking! Yes, if you want to hit some of the epic off-road trails in the area we can arrange the tour. (Contact us for details – we will need to plan well ahead.) Head to Oskar Blues, home of Dale's Pale Ale, REEB bikes, and a relaxed atmosphere. An option is to either stay local for a meal, or head back to Sierra Nevada – we'll help you get there and back.
Day 6 – Departure
We'll take you from Brevard to the Asheville airport (AVL). Thanks for riding and drinking with us!