Our aggressive wine country bicycle tours create an array of options for riders looking for a challenge. Whether it's mileage, difficult terrain, famous routes, or some other goal you seek, our aggressive tours allow you to get in your rides, with the most celebrated vineyards and coastlines in the U.S. as your daily backdrop. During your time out of the saddle, we will highlight for you the best food, wine and sightseeing that wine country as to offer. All breakfasts are included. Lunches and dinners are yours to choose along the route, and in the lovely towns you will be staying in. The Napa Valley is home to numerous Michelin Star and other highly-celebrated restaurants, and boasts an overall culinary culture that is fantastic. Come join us on your next vacation for one of our California Wine Country bicycle tours. See full itinerary below.
Dates: Your pick! We offer tours in California Wine Country as early as March and as late as October and into November.
Length: 5 days, 4 nights
Service: Supported, Private, "Self Guided" tour. For more about how our Self Guided tours work CLICK HERE.
Type of riding: Rolling terrain with some climbs.
Bikes suggested: Road bikes or hybrids
Average daily riding: 35 miles
Start city: San Francisco
Finish city: San Francisco
Suggested transport: Fly to San Francisco (SFO) from anywhere.
We work with only local guides, cooperating with those that have a love for cycling, and a desire to show guests the beauty of the land they call home. On our self guided tours we do not bring in guides from other destination to work with you. Having the local perspective only enhances your experience, providing insider knowledge and opportunities that only a local resident can offer.
From greeting guests when they arrive, to personally handling luggage transfers, to curating excursions, to problem-solving (e.g., flat tires and other unforeseen issues) our concierges assist guests daily. They also set you up on your rental bikes, and can help with routing and simple questions. Need help finding a good lunch spot? Is it raining too hard or you're too tired to continue? The concierge is a phone call away and are there to help you! Each tour group works with a single, dedicated concierge who can be called upon for in-person assistance at any time.
Road Bikes: Our rental road bikes are a racing style with drop handlebars.
Type – Carbon Road Bikes
Sizes – XS, S, M, ML, L,and XL
Components – Mixture of Shimano 105 and Ultegra with either triple or compact double cranksets. Many have road-disc brakes.
Hybrid Bikes: Our rental hybrid bikes are a relaxed style with flat handlebars.
Type – Aluminum Hybrid Bikes
Sizes – XS, S, M, L, and XL
Components – Mixture of Shimano road and mountain components with either triple cranksets.
During the registration process you will be asked for specifics to have the correct sized bike waiting for you. We can supply any number styles of pedals – SPD, SPD-r, flat, Speedplay, Look, etc.
WHAT IS INCLUDED:
All hotel accommodations – mostly 3 and 4 star but ask for custom accommodation requests.
An OBT cycling jersey!
Detailed route notes, maps, and tourist information. This includes standard cue sheet, and GPS courses to upload to your own GPS device.
Luggage transfers from hotel to hotel.
Meals as explained in the tour itinerary pages. Usually this means all breakfasts, no lunches, and some dinners.
Access to your personal guide/concierge (See Guides/Concierge tab).
WHAT IS NOT INCLUDED:
Transportation to start location and from finish location.
Bikes, but we have rental bikes available.
Travel and Health Insurance.
Admission to sightseeing venues, unless explicitly mentioned as included.
Available to rent for $150 per unit per tour. These easy to use GPS units provide an excellent worry-free routing method that you can depend on throughout your tour.
If you choose to rent we will have the until ready for use with the routes pre-loaded onto the unit. All you have to do is start the daily route at the beginning of your riding day, and follow the highlighted line! We will also provide instructions that you can reference when needed. As a backup and supplement to the GPS, we will also provide a local map as well as routing instructions.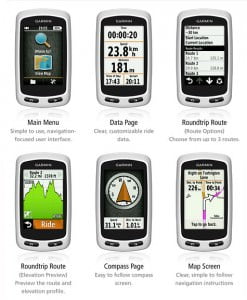 Tour Cost Per Person:
Double Occupancy: US$1,895
Single Occupancy: US$2,345 (for single room occupancy on multiple person tours)
Solo Tour: Please contact us
Bike Rental Per Person:
Road Bike: US$225
Hybrid: US$145
What's Next? Registering for your tour!
Questions: First, please feel free to ask us any questions about the tour. We are happy to help clarify any details.
Registration: Once you are ready to register please go to https://outfittertours.com/registration/ and complete the registration form. EACH tour participant will need to complete the form. At the end of the registration for you will be asked for a US$800 deposit. You can pay the deposit by bank check, wire, or credit card. Once we have all registrations we will secure all of the details of your tour – hotels, bikes, etc.
Final Payment: 60 days prior to your tour we will invoice you for the balance of the tour.
Tour Packet Delivery: Once the balance is paid and approximately 30 days before your tour we will send you a complete tour packet containing all details of your tour – accommodation information, detailed routing, a suggested packing list, maps, tourist guide, and much much more!
For more information on our Terms & Conditions please CLICK HERE.
Daily Itinerary:
Day 1 – San Francisco to Calistoga – 20 to 50 miles
After picking you up in downtown San Francisco, we will transfer you to one of the many small towns within the Napa Valley. Whether you'd like to begin in Downtown Napa, Yountville, Rutherford, or someplace else, we can vary the drop-off point to allow you to choose your own mileage. Take a straight shot up the Silverado Trail, where you will find well-known wineries like Stag's Leap, Paraduxx, Duckhorn and Mumm, or zig-zag between Silverado Trail and Route 29—the latter will take you past Cakebread, Robert Mondavi, and Opus One. For those who like climbing, we can show you a great loop ride up Howell Mountain. For a more extensive first day, we can drop you in Glen Ellen, in the Valley of the Moon on the Sonoma side. From here, you have a challenging climb over a high mountain pass before a fast descent into Napa. Today is about choosing your own adventure and finding your ideal balance among riding, food and wine.
After as many as 40 miles, you will reach the town of Calistoga. Situated atop underground reservoirs that break through the earth as mineral hot springs, Calistoga draws health-seekers from far and wide. With its natural resources supplying the town's many spa facilities, Calistoga is equal parts vineyard, resort spa, and downtown. The laid back and well-preserved main street has quaint shops and good restaurants and if you arrive early, you can enjoy a relaxing massage or a rejuvenating mud bath! Calistoga is also home to the Michelin Star restaurant, SolBar, and is one town over from St. Helena's Wine Spectator Restaurant at the Culinary Institute of America (CIA). The Restaurant at Meadowood, with its two Michelin Stars, is a few miles down the road in Rutherford.
Day 2 – Calistoga to Healdsburg – 30 to 70 miles
Today you will ride over Diamond Mountain into the Dry Creek Valley, pedaling through serene woodland shade before emerging in the mountain-framed vineyards of the Alexander Valley. Most wineries along the way are open for walk-in tastings, allowing you the freedom to explore at your leisure. Your most relaxed option today is 25 miles today, so enjoy the ride.
Or, if you are looking for more of a challenge, there are several opportunities to head into the mountains for some of the most impressive panoramas in Northern California. On these challenging routes, you will leave the valleys and enjoy real roller coaster rides with heart thumping climbs and heart stopping descents. Your reward is some of the best cycling in California with fantastic views back down to the Alexander Valley, far below. You will see little traffic on these mountain roads. Indeed, there is hardly any sign of habitation at all.
You stay overnight in Healdsburg, the hub of the Alexander Valley and Dry Creek wine regions. It is a prosperous but relaxed town where you are equally likely to come across Silicon Valley escapees and vineyard workers. Around the Spanish-style Plaza, you will find smart restaurants, bookstores, antiques stores and a regular farmers market.
Day 3 – In and Around Healdsburg – 20 to 60 miles
How much you ride today is up to you. The gentle route takes you outbound along the eastern border of the Dry Creek Valley— classic back roads that snake past small farms and family-run wineries are enjoyed with the Mayacamas Mountains framing the scene. Many guests collect a picnic lunch at the Dry Creek General Store, to be enjoyed in the gardens of a nearby winery.
A more challenging ride is to Glen Ellen, where beautiful countryside awaits. The ride starts gently, heading south into the Russian River Valley before following rolling back roads toward Santa Rosa. A combination of small roads and bike paths lead to long ascent up the slopes of Sonoma Mountain. This part of the route has been a Tour of California KOM climb! Once over the shoulder of the mountain, you will "peacefully" descend past the Zen Center to the town of Glen Ellen (also known as the Valley of the Moon, a nickname popularized by Jack London). After lunch, start climbing again—back over the other shoulder of Sonoma Mountain before descending to Cotati where 20 more miles of gently rolling terrain across open vineyards returns you to Healdsburg.
Day 4 – Healdsburg to Bodega Bay – 40 to 60 miles
Again a day of choices – some easier, some harder. All routes start in the Dry Creek Valley before heading over a low pass and down to the Russian River, where you will cycle beneath the shade of redwood trees. Famous wineries including Twomey, Hop Kiln, Rochioli, Arista, Thomas George and Gary Farrell, are optional stops along this route. After 20 miles you will reach the eclectic town of Guerneville, the gateway town to the Armstrong Woods. For many, the highlight of the day is a side trip to this state park – a beautifully preserved redwood grove with some trees over 1,400 years old.
From Guerneville, two options arise. The direct route takes you on a gentle descent alongside the Russian River before heading over coastal bluffs and reaching the Pacific Ocean at Jenner. A more challenging option takes you north into the redwoods and through the small hamlet of Cazadero. From there you continue northwest into the coastal range where rolling back roads snake across unfenced pastureland and through mixed-tree woodlands. But, beware—there are long, steep climbs and challenging downhills in equal measure with stunning coastal views and a fast sweeping descent into Jenner.
From Jenner, you will enjoy some classic California coast riding as you head southward to Bodega Bay. Typically, the wind will be at your back as you ride mile after mile of pristine coastline. Your overnight stop is 22 miles later in Bodega Bay. A working fishing port with a large fleet catching salmon, crab and shrimp, both Bodega Bay and Bodega (5 miles inland) were featured in Alfred Hitchcock's award-winning 1963 film, "The Birds." If you visit Bodega proper, you may recognize Bodega Church and Schoolhouse. Beyond film-related artifacts, Bodega is home to many interesting buildings and quirky shops.
Day 5 – Bodega Bay to Point Reyes – up to 35 miles
How much you choose to ride today will depend on your schedule and how you're feeling. A relaxing morning might involve a simple exploration of the beach in Bodega Bay. A bit of pedaling can be achieved via an easy 8-mile in-and-out ride around the bay and up onto the headland. The views along the coast from the end of this ride are breathtaking. With this option, we'd meet you back at your hotel for the return transfer to San Francisco.
If you prefer a longer ride, we suggest heading south to Valley Ford and into Marin County. From here, scenic back roads across rolling hills and pastureland may lead you to the well-preserved village of Tomales. This 1850s town retains a Frontier-Victorian character and makes a good lunchtime pick up point.
If you still want to do some more riding, continue down the border of Tomales Bay for a pick-up in Point Reyes. The flat water, common mists and abundant wildlife around the Bay make this a magical place reminiscent of a Scottish loch. Beer and oyster shacks will keep you going en route.
Tomales Bay ends at Point Reyes Station, as would your ride. This is now a relaxed town with many craft shops, galleries and cafés. It is also the access town for the Point Reyes National Seashore. The cycling today is, for the most part, on rolling terrain. However, the pull-up to the Dillon Beach turn is a steep, one-mile climb.
Wherever you choose to be met, your guide will be waiting for you – with your luggage – ready to transfer you back to San Francisco.