If you have dreamt of spending a week in Provence, or dreamt of having the option to climb Mont Ventoux from all 3 directions, this tour is for you. This is our 2018 Founders tour, which is a Provence guided bike tour being led by Dick Powell. This 8-night tour is designed for riders of varied levels – we will have standard routes, but will also have options to extend their daily rides. You will even have opportunities to attempting the 1,912 meter "Giant of Provence", Mont Ventoux. This tour builds in entire days of rest and relaxation, creating ample space to sightsee and enjoy. Gordes, Vaison La Romaine, the Luberon, weekly village markets, and much more are on the itinerary. The markets in Gordes and Sault are a treat you can't miss! There is no more romantic a place in France than Provence. Oceans of sunflowers and acres of lavender alone make it unforgettable. The food is world renowned, as is the wine.
A note from Dick: "My late wife and tandem partner Marilyn and I first cycled in Provence in 1985 on single bikes, self-supported. We started in the west in the Dordogne and followed the great gorges routes through the Massif Central to Provence. We loved the Dordogne and France but the Massif Central was tough. We fell in love with cycling in France and Provence. We returned here on a tandem, again self-supported, with 4 other tandem couples in 1997, expanding our routes to cover more of Provence and fell even more in love with it. We then added Provence and Ventoux to our guided and self-guided tour options. This past September I led a tour in the Dordogne for OBT. In 2018 I will lead this tour in Provence for OBT and really look forward to sharing these wonderful cycling routes and hotels with you. Each place is special. Please consider joining me . . . . Dick"
See full itinerary below. To learn more about our Provence bike tours please CLICK HERE.
Dates: 29 September to 7 October, 2018.
Length: 9 days, 8 nights
Service: Fully supported guided tour.
Type of riding: Rolling to flat terrain with opportunities to do aggressive climbs=ing.
Bikes suggested: Road bikes, e-bikes, or hybrids
Average daily riding: 45km with options to extend
Start city: Avignon
Finish city: Avignon
Suggested transport: Train/TGV from anywhere.
Road Bikes: Our rental road bikes are a racing style with drop handlebars.
Type – Giant Defy Composite
Sizes – XS, S, M, ML, L,and XL
Components – Mixture of Shimano 105 and Ultegra with either triple or compact double cranksets. Many have road-disc brakes.
Hybrid Bikes: Our rental hybrid bikes are a relaxed style with flat handlebars.
Type – Giant Escape
Sizes – XS, S, M, L, and XL
Components – Mixture of Shimano road and mountain components with either triple cranksets.
eBikes: These semi-powered bikes allow for non riders to share the experience with their friends and family who are stronger cyclists.
During the registration process you will be asked for specifics to have the correct sized bike waiting for you. We can supply any number styles of pedals – SPD, SPD-r, flat, Speedplay, Look, etc.
WHAT IS INCLUDED:
OBT cycling jersey
All hotel accommodations
Luggage transfers from hotel to hotel
Meals as explained in the tour itinerary pages.
Detailed route notes, maps, and tourist information
Outstanding routing instructions for all rides! This includes GPS course downloads for your GPS unit, traditional cue sheet, and written prose describing each turn and the surrounding area. These methods are then supported by a road map.
Your personal guides, helping you with support vehicles. On-road support will always be near. From greeting guests when they arrive, to handling luggage transfers, mechanical issues, etc – our guides assist guests in every way. They also set you up on your rental bikes, and can help with routing, and any other questions.
WHAT IS NOT INCLUDED:
Transportation to the start location and from and Paris
Bikes, but we have rental bikes available
Travel and Health Insurance
Admission to sightseeing venues, unless explicitly mentioned as included.
Tour Cost Per Person:
Double Occupancy: US$3,495
Single Occupancy: US$4,295
Bike Rental Per Person:
Road Bike: US$400
eBike: US$400
Hybrid: US$250
What's Next? Registering for your tour!
Questions: First, please feel free to ask us any questions about the tour. We are happy to help clarify any details.
Registration: Once you are ready to register please go to https://outfittertours.com/registration/ and complete the registration form. EACH tour participant will need to complete the form. At the end of the registration for you will be asked for a US$800 deposit. You can pay the deposit by bank check, wire, or credit card. Once we have all registrations we will secure all of the details of your tour – hotels, bikes, etc.
Final Payment: 60 days prior to your tour we will invoice you for the balance of the tour.
Tour Packet Delivery: Once the balance is paid and approximately 30 days before your tour we will send you a complete tour packet containing all details of your tour – accommodation information, detailed routing, a suggested packing list, maps, tourist guide, and much much more!
For more information on our Terms & Conditions please CLICK HERE.
Daily Itinerary:
Day 1: Arrive Avignon by Train, stay Le Thor – Saturday, 29 September
Welcome to Avignon! We will pick you up from the train station or airport and take you to your first hotel outside the village of Le Thor. Once you arrive at the hotel, relax and enjoy the afternoon. If you arrive early enough we will have a local route for you to enjoy. Dinner is included and at the Inn—a special welcome feast prepared by one of our favorite chefs, Emmanuel, the son of the proprietor and also a professional clown. Outstanding food and lots of fun.
Day 2: Le Thor to Gordes – 45km – Sunday, 30 September
After breakfast, your local guides will meet you and give you an orientation to your tour. They will set you up on your rental bikes or help you set up the bike you brought with you. Then you're off to start your cycling vacation! It is a comfortably rolling ride to Gordes via Fontaine-de-Vaucluse. There is also a flatter option that bypasses the Fontaine. Today you visit Gordes and at the end of your ride before coasting to your Inn. Dinner is included.
Day 3: Luberon Loop Ride – 45km – Monday, 1 October
Today's ride is a classic. You are in the heart of the Luberon, made famous by Peter Mayle in his book "A Year in Provence". Ride 45 hilly kilometers through one beautiful village after another: Roussillon, Bonnieux, Lacoste and Menerbes, to name a few. For those craving less rigor and more relaxation, daily mileage can be shortened as desired. Dinner is again at the hotel.
Day 4: Gordes Market then to Sault – 60km – Tuesday, 2 October
Start your day with the morning market in Gordes. One of the best in the region, all the vendors will be displaying their products in the center of town. We've seen the usual fruits, vegetables, meats and household wares, but also the unusual such as mattresses! From there, ride by the beautiful Abbaye de Senanque and Venasque. From there you'll ride the gorgeous Gorge de la Nesque to the Albion Plateau. Once in Sault you'll ride through town up to the hotel, a beautiful 4-star with views of Ventoux. Dinner is included.
Day 5: Sault Market and a Loop Ride – 40km or much more – Wednesday, 3 October
Sault and the Albion Plateau is a hidden gem of Provence. On the "far side" of Ventoux from the more populated areas, fewer people come here to explore. The roads are amazing, and wonderfully quiet. Before your ride, roll down to the center of town and enjoy the market. Your riding options are varied and we'll have the best for you. Dinner is back at the hotel.
Day 6: Sault to Vaison La Romaine – 50km – Thursday, 4 October
It is a relatively easy and beautiful 50km to Vaison la Romaine. We ride in valleys and along ridges on the steep north side of Ventoux. This side of "The Giant" is so steep there are no access routes. The more aggressive option is to ride over Mont Ventoux from Sault to Vaison la Romaine. This is the longest way up Ventoux, yet the less steep side. You will be rewarded on the other side with an amazing downhill. Dinner is on your own tonight.
Day 7: Vaison La Romaine to Bedoin – 52km – Friday, 5 October
You have another beautiful ride today, so there is time to finish exploring Vaison la Romaine before proceeding to Bedoin, tasting wine along the way. You will pass through one lovely and quaint Provencal wine village after another; Seguret, Gigondas, Vacqueyras and Beaumes-de-Venise. There are some lovely optional rides into the beautiful Dentelles de Montmirail. Then through Caromb and on to Crillon-le-Brave and Bedoin. Alternately, go to Bedoin via the Malaucene route over Mont Ventoux, one of the two routes used by the Tour de France. Dinner is included at the hotel.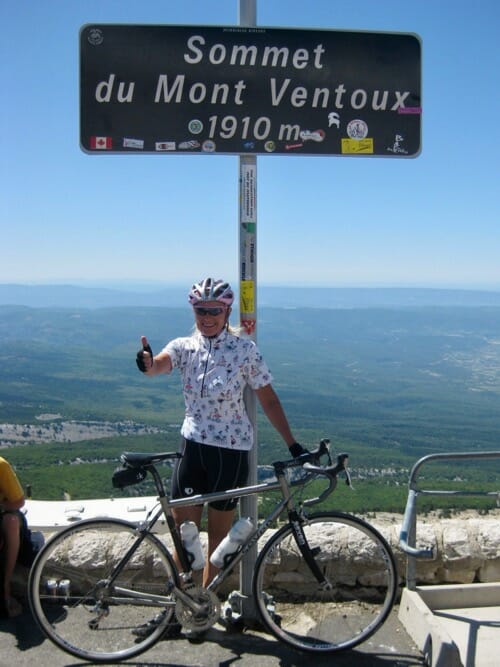 Day 8: Bedoin – Mont Ventoux or a relaxed ride in the area – 64km – Saturday, 6 October
We'll have two riding options for the day: Either enjoy a rolling local ride or conquer Ventoux. The optional ride is up Ventoux the way le Tour de France normally ascends it, starting in the lovely village of Bedoin. Ventoux is 21km up from Bedoin; starting at 275m (908') and finishing on the summit at 1,909m (6,300'). This is a cyclist's pilgrimage much like L'Alpe d'Huez. The road is always full of other cyclists taking on this challenge. If you wish to have a more relaxed day, we will have a shorter ride with less climbing. Your farewell dinner is at the hotel in Bedoin.
Day 9: Departure – Sunday, 7 October
Sleep late, have a leisurely breakfast and enjoy your final morning in Provence. We will collect your bike if you rented one, and help transfer your luggage to one of the Avignon train stations before bidding you farewell!